New rule: coconut macaroons must be served on pretty doilies. I picked up some old lady doilies on a whim at the supermarket a few weeks ago. Had no real intention for them, but figured paper doilies would eventually come in handy for something…right? And then, when I took these maple coconut macaroons out of the oven it hit me, and I could almost hear the voices of grandmas (here and passed) demanding, "put them on the doilies!" So I did.
And here they are. Fancy, fancy.

Coconut macaroons. For some reason they never seemed like the kind of thing people actually make. I mean, when's the last time someone showed up to a potluck with a tray of coconut macaroons? On doilies no less! So that's partly why I decided to make them. Because people need a new favorite cookie. And because coconut is divine.
I thought they'd be complicated to make though and figured I'd be pretty freaked out by the amount of butter and oil they'd require. But just the opposite was true. I love when I'm wrong. These things actually contain NO butter or oil—just egg white, maple sugar, flour and coconut—and they're surprisingly easy to make.
There are two steps:
Step One: Cook all the ingredients in a double boiler for about 8 minutes or until the sugar melts and it holds a form.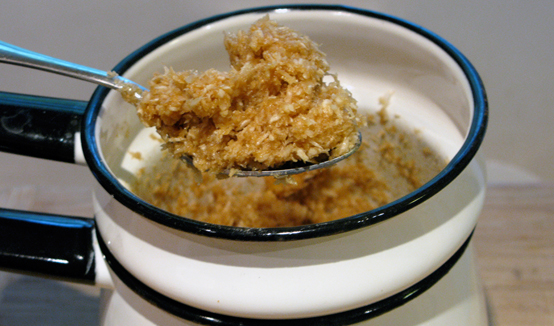 Wait, what's a double boiler?!
A double boiler is a special pot made up of two fitted saucepans. During cooking, the outer saucepan is partially filled with water and in contact with the stovetop while the inner saucepan contains your ingredients. The water in the outer saucepan is brought to a simmer, and the result is that the inner saucepan gets heated more evenly. This method is good for things like melting chocolates, and cooking custards and sauces so they don't burn. If you don't have one of these pots, don't worry.
A double boiler can EAISLY be improvised by placing a heat resistant bowl (like pyrex glass or a casserol) inside a large saucepan or pot containing boiling water. Another option is to just place a small saucepan inside a large saucepan containing boiling water.
Step Two: Make about 12 kiss shaped mounds and bake them for about 12 minutes.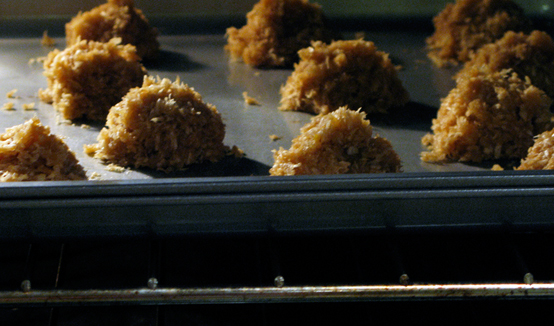 The texture of these things is great—perfectly moist and chewy. I think it has a lot to do with using unsweetened coconut (not as sticky). And the maple sugar is absolutely what sets them apart from any other macaroon out there. Don't even consider substituting for regular sugar. You can find maple sugar a pretty much any health food store.
Recipe from Sweet and Natural Baking
Print Recipe
Back to Top
Recipe
Coop/prep time: 30 mins. Makes 12-14 macaroons
You need:
1 3/4 cup (6 oz.) unsweetened dry coconut
3/4 cup plus 2 tablespoons maple sugar
3 large egg whites
2 tablespoons whole-wheat pastry flour
1/8 teaspoon sea salt
Directions
Preheat to 375°F.
Combine coconut, maple sugar, egg whites, flour and salt in a bowl or directly into top of double boiler (or heatproof bowl if you're improvising a double boiler). Note: Refer to main post for further instruction on double boiler.
Cook over hot water (either in double boiler or heatproof bowl), stirring often, until maple sugar is almost totally melted and the mixture is stiff enough to hold its shape. See if you can form a mound. If you can, it's done. Remove from heat.
Create 12 portions on a baking sheet. Using a moistened finger, press each portion of dough into a kiss-shaped mound about 1-3/4 inches wide at the base.
Bake until golden brown, 12-14 minutes. Cool on a wire rack and store in an airtight container at room temperature.
HonestFare.com