We had such incredible "chowda" in Maine this summer and since then I've wanted more of it in my life.
I really love clam chowder. I don't indulge in it much though cause it's not always easy to find a good bowl around here. Plus, you know how squeamish I can be about all that cream.
So instead, I used 2% milk and only a little cream compared to a lot of the recipes I've read. The trick to getting it to be super creamy is to cook the potatoes down a lot so they thicken up the whole pot. The longer you cook, the thicker it gets. I started things off by sautéing some onions. I added some potatoes to those and cooked them a bit before adding the milk, cream and corn.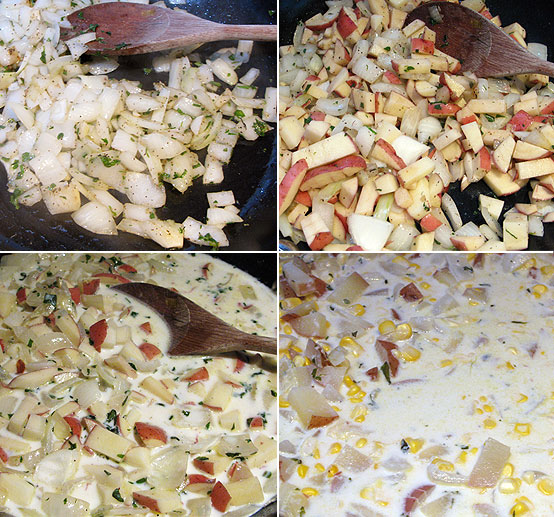 The clams only need to be steamed until they open. Then you just remove them from their homes and add them to the pot at the last minute so they don't get overcooked and chewy. I guess you can use jar clams and bottled clam juice, but the fresh stuff is easy and tastes better.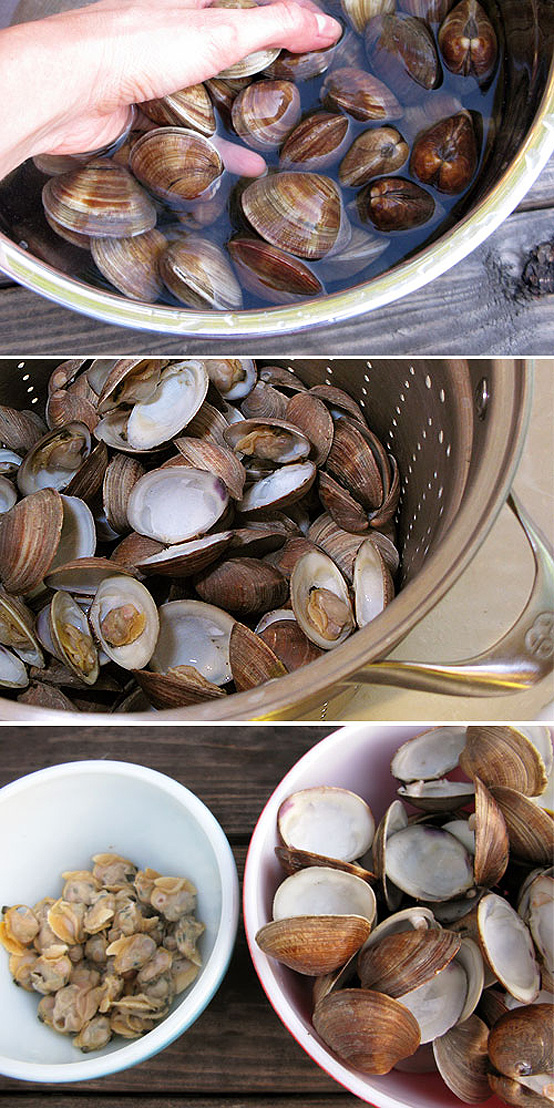 There are a few steps involved in this recipe, but honestly, it's not a difficult task. This stuff freezes well too so you can make a bunch and have it around.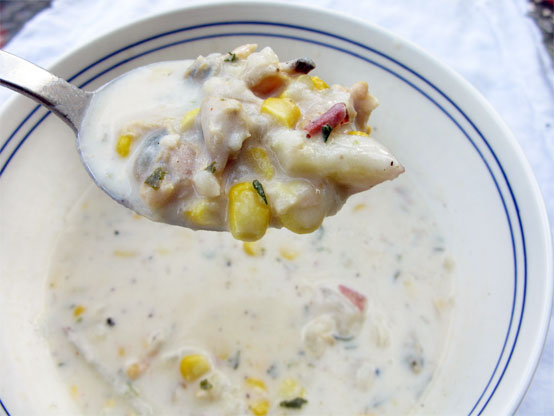 Eat it up with your favorite salted crackers!
Print Recipe
Back to Top
Recipe
1 hour Serves 4-6. Of course I'm going to recommend using fresh clams and the clam juice you get from steaming them. But, precooked clams and bottled clam juice is okay. When steaming clams, make sure to remove them from heat immediately when they open and then add them to the soup at the very end or they will turn to rubber.
You need:
2 Tablespoons butter
Olive oil
1 cup diced onions
2 cups cubed red potatoes
½ cup corn kernels
1 teaspoon salt
¼ teaspoon black pepper
1 tablespoon chopped basil
1 tablespoon chopped oregano
2 cups milk
¾ cup light cream
1 ¼ cup steamed, chopped clams (30 clams)
3 cups clam juice
Salted crackers
Directions
Prepping: Dice onion and herbs. Cube potatoes. Remove kernels from 2 ears of corn. Set aside. If using fresh live clams, let them soak in a large bowl of water, scrub any dirt off them and rinse.
Steaming the clams: (omit if using precooked clams and bottled clam juice) Steam clams in 3 ½ cups of water. Remove from heat when they open. Reserve the homemade clam juice (the now flavored water you steamed your clams with), unless using canned/bottled clam juice. Let clams cool, remove clams from shells and chop into halves or thirds. Set aside.
The stock: Add butter to a large pot. Sauté onions and ½ of all your herbs on medium heat for 2 minutes. Add about 2 tablespoons of olive oil to start, salt, pepper and potatoes and continue to sauté uncovered a couple minutes. Then add milk, cream, corn, clam juice and remainder of spices (reserve a little parsley aside for later). Reduce heat a bit and cook covered until potatoes are soft.
Thickening the soup: Remove lid, keep cooking and stir frequently for about 15 minutes so soup can thicken. Using fingers, sprinkle some white flour (1 Tablespoon at a time) evenly into soup and stir in slowly to avoid clumping. Do this until you feel the soup is thick enough. Doesn't hurt to mash up a couple of the potatoes too.

Finishing touches: Stir in clams and remove from heat immediately or they'll get tough and chewy. Top with raw parsley and serve with crackers!
HonestFare.com