A few years back I started a family tradition that would serve to both delight me and mock me for years to come. The Thanksgiving Bakeoff. Sounds innocent enough, right? And it really should be, unless you have inherited the "competiveness gene," which apparently everyone in my family has firmly encoded in their DNA chain. Let's just say that each year seems to up-step the last in terms of both masterful entries and sore feelings. There will always be someone whose molten-chocolate lava cakes wasn't as molten as it should have been, and we're never going to hear the end of it. Anyway, I have never won this family competition. Not because of my failed black bean brownies in '09, but because there are allegiances and biases that run too deep for even THESE spectacularly delicious chocolate-covered cookie sticks to penetrate. Take last year for instance, when our first place winner received sympathy votes for getting dumped by her boyfriend the day before the Bakeoff. Tears in the batter do not make for a superior apple cake, people!
In case you still think the Bakeoff is all fun & games, see our elite panel of judges with their complex scoring system.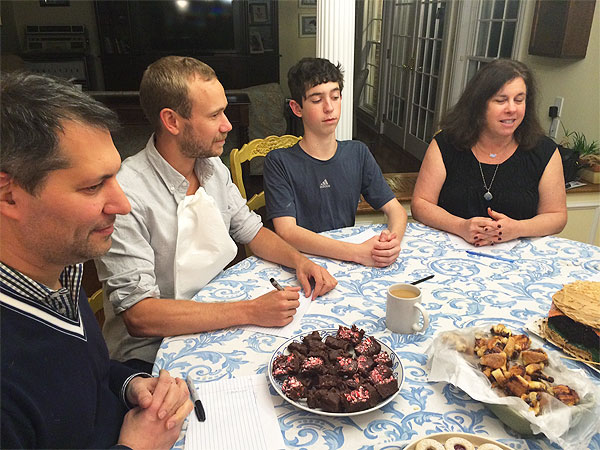 Unfortunately, they're system is not foolproof because, truth be told, I should have won this year. There, I said it. These cookies sticks score high on originality, presentation, and overall taste. Crunchy cookie coated in chocolate, almonds, and sea salt. AND, then I did a second version with dark mint chocolate drizzle that was said to give Pepperidge Farm's Mint Milano cookie a serious run for its money. This should have been my year. Not letting it go…
Okay bitterness aside, and on to the full recipe and details for my 2014 Bakeoff entry—so that you too can come in 2nd place at the holiday dessert table!
The cookie is the key. You need it firm enough to dip and hold, while crumbly enough to fall right apart in your mouth. I think it's all in the bread flour. I'd never used bread flour for cookies until these, and I'm pretty certain it was the main differentiator. The batter actually comes together very easily (just the bread flour, baking powder, sugar, egg, butter, water, almond extract.) Use a pastry bag to extract the batter neatly on to a line baking sheet for baking. I didn't have a pastry bag or tip on-hand, so I improvised by cutting the corner off of a zip-top bag. You fill the zip-top bag with the batter and just compress it right out of the tip of the bag the same way you would with a pastry bag. Sorry no pics of that step! I baked the cookie sticks off two trays at a time for about 20 mins (flipping the trays after 10 mins). This recipe makes about 40 sticks.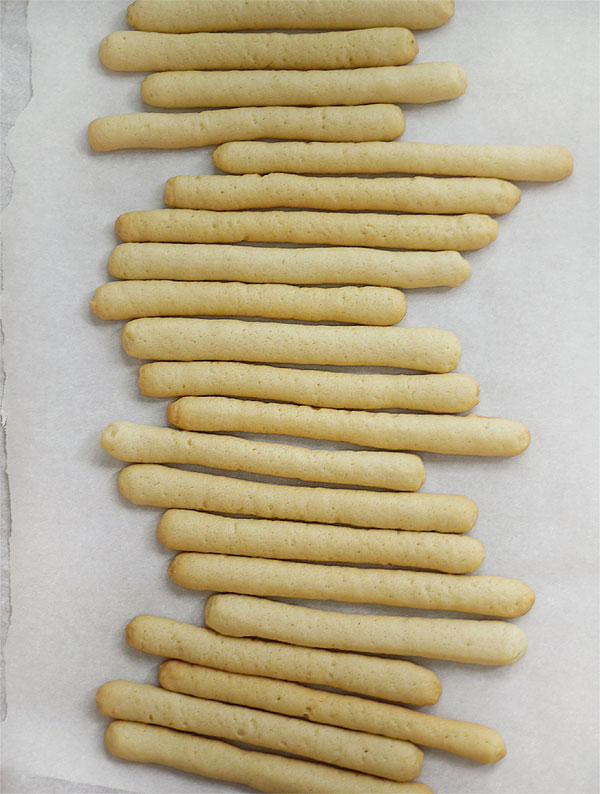 The chocolate chips are simply melted using a double boil method. Use a double boil pot or improvise again by placing a heat safe bowl in a pot of simmering water like seen here…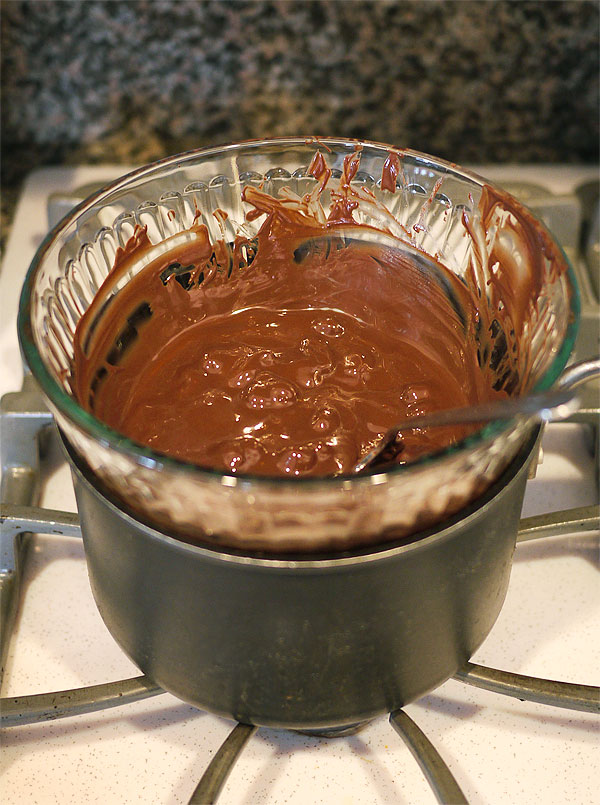 Once the chocolate is nice and melty, you can transfer it to a jar that'll be the right depth for dipping your cookie into. Test the jar before transferring over the chocolate…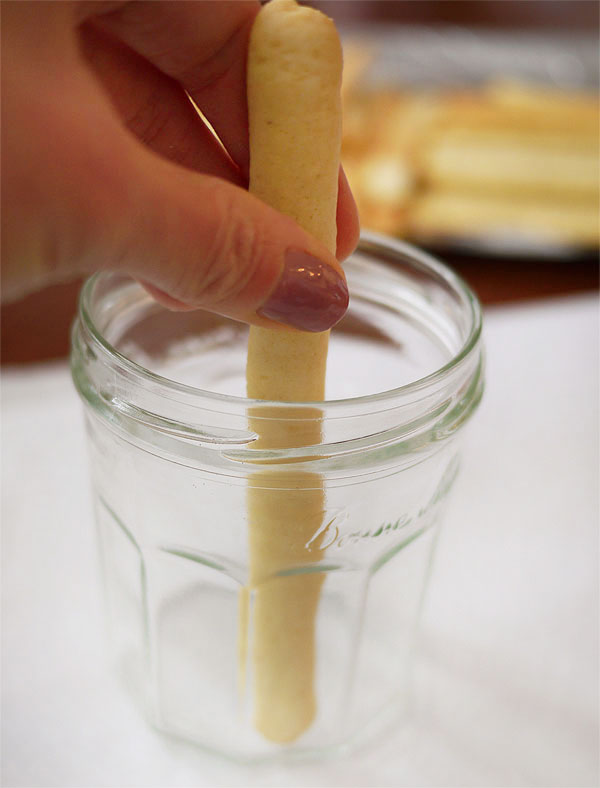 Then start dipping! Let any excess chocolate run back into the jar and lay cookie on the parchment to set.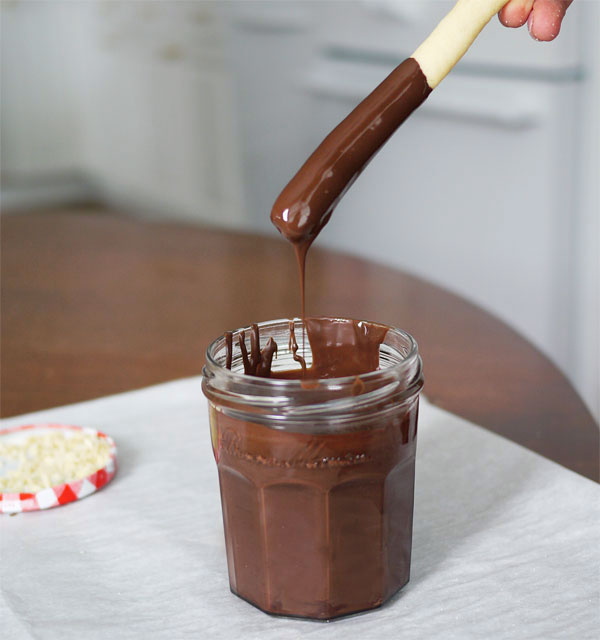 You'll need to add the chopped almonds and sea salt to the chocolate-covered cookie stick before the chocolate dries. I recommend doing it immediately after each cookie is dipped.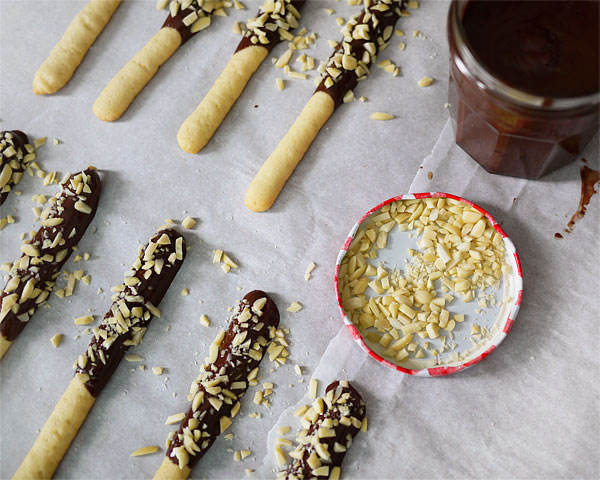 The steps are the same for the mint-chocolate drizzle variety, except for that you'll need to add the peppermint oil (do not use extract, it must be peppermint oil) to the chocolate during the melting stage. Stir it in evenly and add peppermint to taste. I like it really pepperminty, but some prefer less.
Note: If you want to make both varieties, simply do the almond ones first with the plain chocolate, and then reheat the remaining chocolate and add the peppermint oil to do the rest.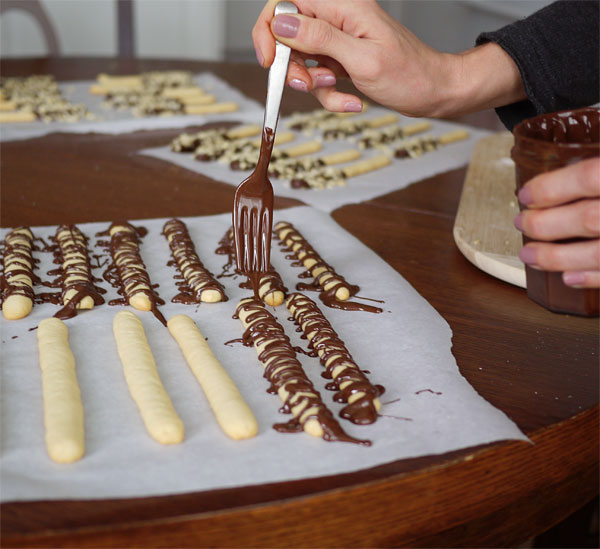 I used a fork for the drizzling. Have fun with it. Go as heavy or light as you want…you can't really mess it up.
Let them dry for about 2 hours before serving or moving around. You want that chocolate to really harden into a nice shell over the cookie.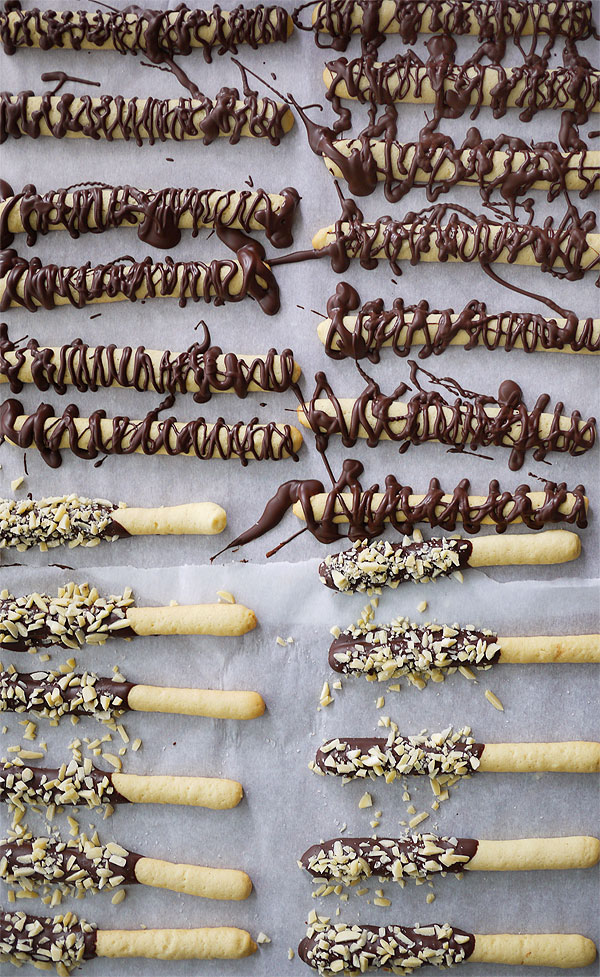 Once the chocolate has hardened, you can gently snap off any excess chocolate drizzle that might be popping off the sides of the cookie stick.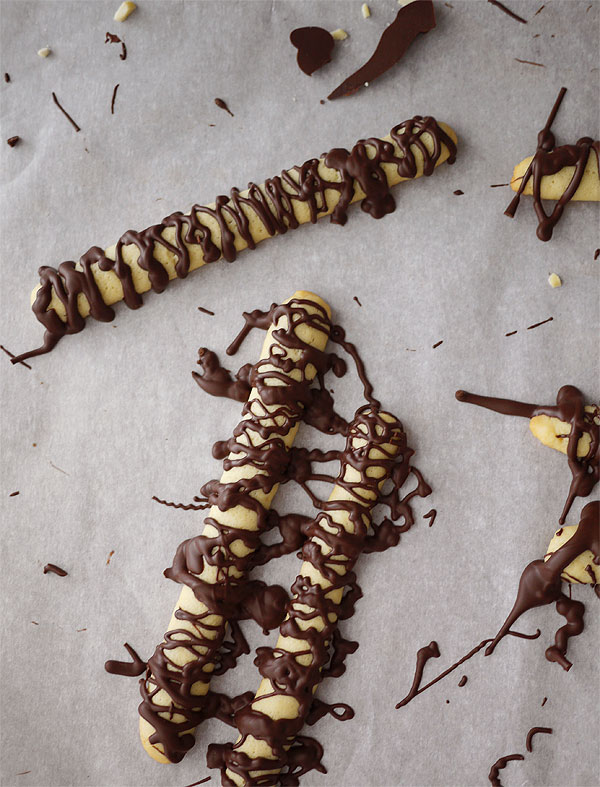 Print Recipe
Back to Top
Recipe
Makes about 40 sticks (depending on how thick and long you go)
You need:
8 Tbs unsalted, room temp butter
2 large eggs
2 cups bread flour
1 tsp baking powder
1/2 tsp Kosher salt + extra for topping
8 tsp water
14 ounces semi-sweet chocolate
Peppermint oil to taste (start with 1/3 tsp)
Almonds, chopped for topping
Directions
Preheat the oven to 300° F. In a large bowl, stir butter and sugar together until creamy and smooth. Add the egg and extract and stir to combine. Add the flour, baking powder, and salt and stir to combine. Add the water and stir until smooth.
Transfer the mixture to a pastry bag fitted a plain round 5/8 inch pastry tip(Use 3/8 if you want them thin) I didn't have a pastry bag handy, so I made one with a zip-top bag. You just put the batter in a large zip-top bag and cut a small corner off the bag. Works just fine.
Pipe the batter onto two parchment-lined baking sheet in straight lines, about 6 inches long, at least 1/2 an inch apart. Bake until the sticks are set and light golden brown, 15 to 18 minutes, rotating the sheets halfway through. Let the sticks cool on the sheets on cooling racks for 5 minutes, then carefully transfer them to a rack to cool completely. Repeat with the remaining batter. Save the parchment-lined sheets for the next step.
For almond chocolate version: Melt the chocolate using a double boil method. Transfer melted chocolate to a jar. One at time, carefully dip each stick in the melted chocolate. Let excess chocolate run back into jar before laying stick on the parchment. Immediately sprinkle with chopped almonds and drizzle with a little sea salt. Repeat for remaining.
For peppermint chocolate version: add peppermint oil (to taste, starting with 1/3 tsp during double boil stage. Transfer chocolate to jar. Lay the cookie sticks on parchment and drizzle peppermint chocolate over cookies in back and forth motion, using a fork.
Let set for 2 hours before transferring to airtight container or serving dish. Chocolate will harden.
HonestFare.com