I'm such an avocado freak. It ends up in nearly everything I eat, without even trying. And when it comes to guacamole, I'm all over it. I recently had more than my share of one of the best guacs I've ever had, at an upscale Mexican restaurant called La Condesa (highly recommend) in Austin, TX. With a smoky blend of chipotle and toasted almonds, it was certainly the most interesting and surprising take on guac I've ever experienced. I left the restaurant knowing I'd have to recreate a version of it when I got home!
You'll just need to get a can of chipotle in adobo, which you should be able to find at most supermarkets. I blended it up with a little agave nectar, pinch of salt and drizzle of olive oil and water. Chipotle on it's own is quite spicy, but the agave nectar helps tame it here as does pairing it with the creamy avocado and nutty almonds. It's worth toasting the almonds for that added crunch and roasted flavor.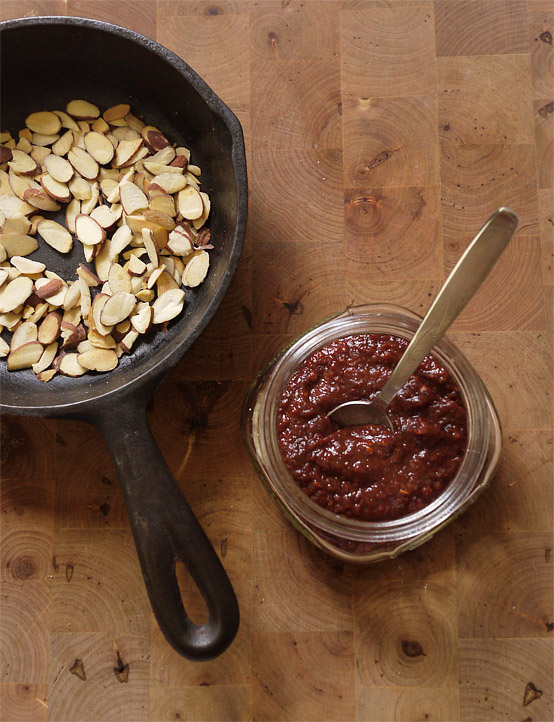 Other than that, I just did a pretty typical mash of hass avocado, lime juice, red onion, garlic, cilantro, salt and pepper. I like it a little chunky, but mash to your heart's content.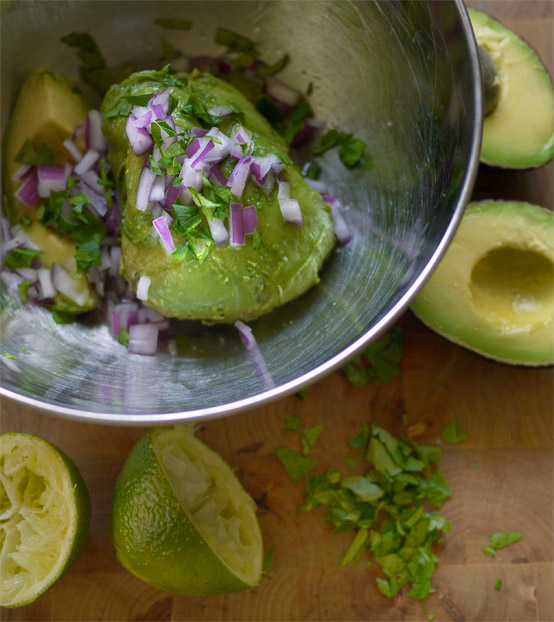 Instead of using oily store bought chips, I decided to grill some tortillas and quarter them up. You can grill, pan toast or even put the corn or flour tortillas in a toaster oven.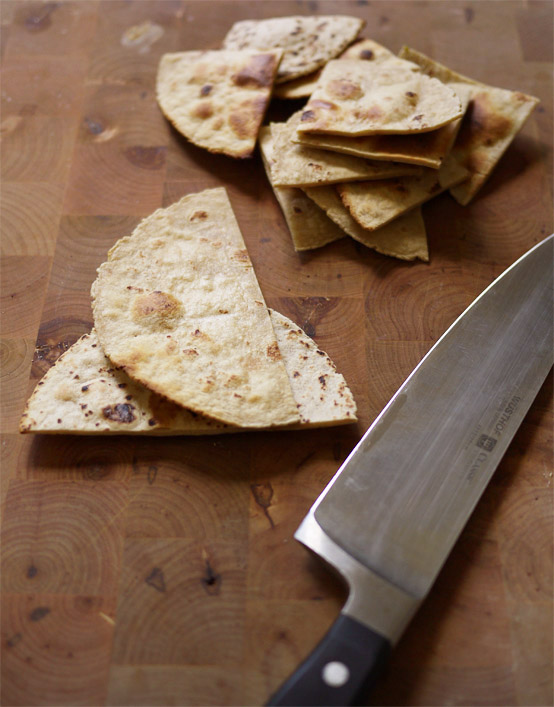 It really takes your guacamole game up a notch when you "make" your own tortilla chips. I love the texture, plus they're great for scooping and more filling so you go through fewer chips.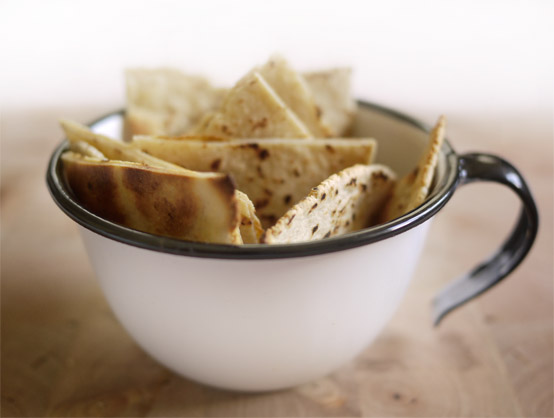 Confession: I ended up eating all of this in 2 days when I made it for the blog. That's 3 avocados! Whoops. Is that bad? I mean, is it possible to eat too many avocados? I literally just googled that statement (half in jest), one I've asked myself so many times after effortlessly polishing off half of one in a sitting.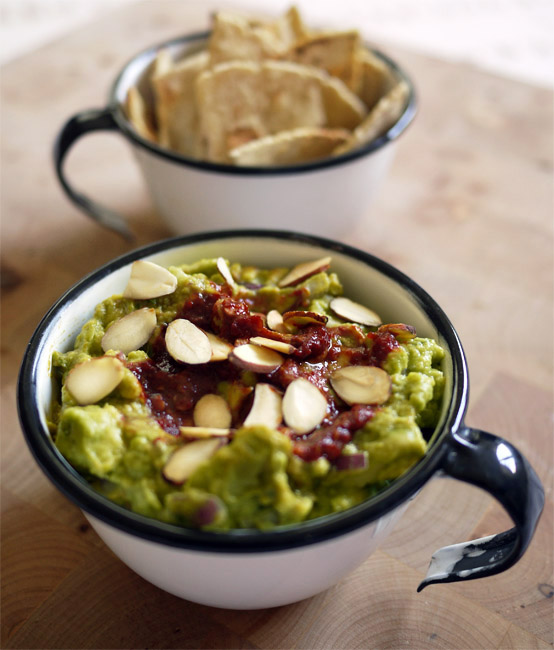 I know avocados are high in fat (with a pretty insignificant amount of protein), but I also know they're good for you. But, fat is fat? And there are approximately 22 grams of it in one hass avocado, which I guess isn't tremendous, but it's quite a bit considering how easy they go down. Raw fat is obviously not the same as cooked or processed fat though, and a cup of avocado is certainly better for you than a cup of butter or a bowl of ice cream. Unlike the fat in fried food or something, your avocado has raw fiber, potassium, folate and vitamin –c. It's also loaded with anti-inflammatory benefits (great for arthritis) and carotenoid antioxidants, which we all need to help us stay young and lovely.
Am I crazy for even worrying about this? Nah, because my google search results were pages long so it is obviously a legitimate concern. Although most those people are probably wackos. Anyway, how many avocados do you consume…say, in a week? Whatever, I happen to like avocados way more than ice cream, butter and fries combined so I guess I should consider myself lucky – and keep eating the hell out of them I will!
Print Recipe
Back to Top
Recipe
Prep + cook time: 30 minutes. Serves 4
You need:
3 hass avocados
2 Tbs finely diced red onion
1/2 fresh garlic clove, minced
juice from 2 limes
salt and pepper to taste
handful chopped fresh cilantro
1 can chipotle in adobo
agave nectar
olive oil
1/2 cup slivered almonds
8 corn or flour (or both) tortillas
Directions
Blend chipotle in adobo with a pinch of salt drizzle of agave, olive oil and water until silky smooth. Set aside. Toast almonds on pan on low heat until just browned.
Pan toast, grill or place tortillas in toaster oven until nice and brown. Poke to release air if they start to puff up. Quarter each tortilla. Set aside and cover to keep warm.
Mash avocado, lime juice, salt pepper, garlic. and cilantro to deserted consistency. Top with generous spread of chipotle sauce and almonds. Serve with chips and extra chipotle sauce on side for those who like it extra hot!
HonestFare.com