They don't call me "Grams" for nothing. I happen to like old lady stuff. Black licorice, hot toddies, throw blankets…and molasses ginger cookies. What can I say, I was born in the wrong era?
These chewy cookies are an old time favorite but all the youngsters seem to like them too. Every time I make them they go with the quickness. I used blackstrap molasses, which is a brilliant sweetener because it's extremely rich in iron and other minerals, as well as vitamin B.
Fresh ginger is also key for these cookies cause it gives them a nice spiciness. I used my handy zester to get the perfect consistency of ginger pulp. If you don't have a zester, you can just cut off about in inch off of your ginger root, peel it and finely, finely dice it up. But, you should really consider getting one of these zester thingies.
They're awesome for all kinds of stuff—cheese, chocolate, fresh nutmeg and cinnamon, lemon rind, etc.
The dough is pretty easy to make. However, the stickiness of it requires you to do one slightly technical thing before you can pop them in the oven. You'll have to shape your dough. Spoon it onto a sheet or plastic wrap, then roll it up into a long rectangular mold. Twist off the ends nice and tight like a Tootsie Roll and pop the mold into the freezer for about one hour or for 3 hours in the refrigerator. This will set the mold and allow you to easily slice off your cookie dough.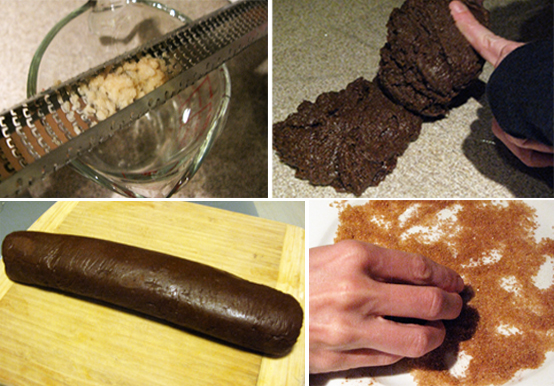 Once the mold is nice and firm, you can take it out of the freezer and unwrap it. Surprise! It looks like the world's biggest turd. Now start slicing off your cookie pieces. You need to do half the dough at a time or it'll just get all mushy and sticky again. Cut up half the dough mold into 1 inch cubes; roll them into balls and press the top of each ball onto a plate of raw sugar. Once they're all sugared up and ready to go into the oven, press a hazelnut or pecan into each cookie's center. It's an optional but delightful touch. They only need to bake for about 6 -7 minutes – any longer than that and they'll spread too much and flatten out. Make sue there's a good amount of space between each as well. they will be pretty soft when you take them out of the oven, but don't worry they'll firm up a lot as they set.
Each 1/2 batch yields about 20-25 or so cookies. Do the other half of the dough right away or keep it in the freezer for up to 2 months or the fridge for up to a week.
Sun kissed and so good…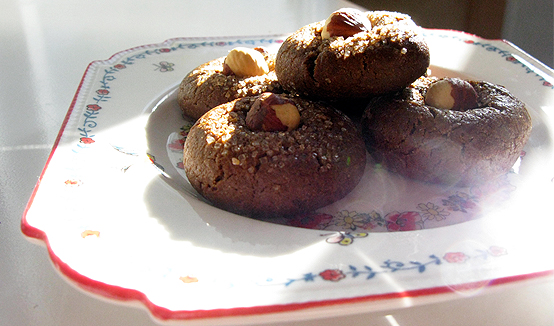 Print Recipe
Back to Top
Recipe
Coop time 6-7 minutes. Prep time 1 hour (dough needs to cool in freezer) Recipe makes about 40 cookies.
You need:
1 ½ cups all-purpose flour
½ cup whole wheat flour
2 teaspoons baking soda
½ teaspoon ground clove (powder)
1 teaspoon cinnamon
½ teaspoon fresh ground ginger
½ cup molasses
½ teaspoon salt
1 cup sugar
1 egg
¾ cup unsalted butter
About ½ coarse raw sugar for rolling tops
About 25 hazelnuts or pecans
Directions
Sift together the flours, baking soda, cinnamon, cloves, ginger and salt. Set aside.
Beat the butter and sugar together until light in color. Add egg and molasses and beat until totally incorporated (scrape the bowl a couple times). Add the sifted dry ingredients and mix until combined.
Wrap dough with plastic wrap. Shape/roll into 2 even, logs. Chill for at least 3 hours in the fridge or 1 hour in the freezer.
After the dough has chilled, preheat your oven to 375 degrees and remove a portion of the dough from the fridge. Cut into 20 or so equal sized cubes and roll each cube into a ball. Place decorating sugar on a plate and pat tops onto sugar. Press nut of choice gently into center of cookie.
Place cookies on nonstick pan or LIGHTLY greased baking sheets with plenty of space between each cookie. Bake for 6-7 minutes tops. Cookies should be VERY soft with lightly browned bottoms because they will firm up a lot during cooling.
Repeat with the remaining dough. Or freeze remaining dough for up to 2 months.
HonestFare.com