Um, yes. This was very good. Very, very good. We all know the sweet and smoky pairing of fig and bacon is divine. But adding tiny baby cabbages to the mix…directly from the gods I tell you.
I saw this recipe here and just had to recreate it. The bacon is cooked first and some of the bacon fat is reserved in the pan to cook the Brussels in. I also added some water to the pan to steam them a bit. The Brussels are thinly sliced (not just halved) so they cook/brown evenly. The bacon, figs and sprouts are then combined with a splash of balsamic vinegar and lemon juice. It was perfect served at room temperature.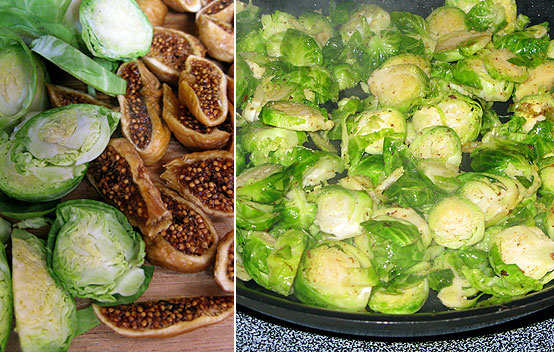 If you even kind of like Brussels sprouts or cabbage, then you're going to be so into it.
We had no intention on eating the entire serving bowl between the two of us, but it happened…
Print Recipe
Back to Top
Recipe
Cook/prep time 30 mins. Serves 4. Omit bacon for vegetarian option. Nice served at room temperature.
You need:
15-20 Brussels Sprouts
10-15 or dried figs
8 slices of bacon
Salt to taste
Pepper to taste
¼ teaspoon garlic powder or 1 clove
Splash of balsamic vinegar
Juice of ½ a lemon
About ¼ cup water
Directions
Slice off the dull base/stem of your all your Brussels sprouts to expose the fresh white base. Thinly slice Brussels sprouts vertically (from stem to tip) into 4 pieces. Also quarter your figs. Set aside and keep separate.
Cook up your bacon nice and crunchy and press between paper towels to remove excess oil. Once cool, cut into ½ inch pieces. Leave just enough bacon fat in the pan to coat the bottom of the pan.
Add sprouts to bacon fat pan. Cook them on medium high heat, tossing around to evenly to coat them in bacon fat. Add garlic powder and salt and pepper to taste. Add a little olive oil if pan seems dry. Cook uncovered for about 5 minutes. Once sprouts are nicely browned and pan begins to dry out, add ¼ cup water and cover to steam until they cook through (about another 3-5 minutes).
Remove sprouts from heat. Add sprouts and figs to a large bowl and toss with about a tablespoon of balsamic vinegar. Add bacon pieces, squeeze half a lemon overtop and toss again. Sprinkle with additional salt and pepper if necessary.
HonestFare.com