I've always eaten my radishes raw, but the other day I decide to try something different—braising them.
A total experiment that I'm pretty thrilled about. Apparently, when you cook a radish you awaken its luscious side.
Now, when braised, they sort of resemble little red potatoes, but don't be fooled by their unassuming exterior—eating a braised radish is like biting into a succulent with that dense yet watery flesh that manages to be savory and refreshing at the same time. I can't tell you how incredible these were. Braised radishes is where it's at.
What's braising exactly and why does it make stuff taste so amazing?
Braising typically means you first sear the food at a high temperature and then finish it in a covered pot at a lower temperature (oftentimes with liquid) until it's cooked through. The result is variable depending on what you're braising obviously, but for the most part you get a particular browned and slow-cooked flavor in a really short amount of time. The outside is marked with all those charred pieces everyone fights over, while the inside stays juicy and tender.
I was only going to braise the radishes but then I saw some green beans hiding in the fridge and couldn't resist the color combination.
Radishes take a lot longer to cook than green beans, so I didn't put them all in the pan together. Instead, while the radishes were braising, I decided to flash steam my green beans and set them aside until the radishes were almost ready. Then I just tossed them all together in the pan for a couple minutes at the end.
Green beans should always have a nice snappy bite to them. You only need to steam them for a couple minutes to keep them crunchy that way. When they turn vibrant green, they should be done enough. Another way to tell, is when you hold one in your fingers, it should still feel firm and resilient, not droopy. You can always just eat one too.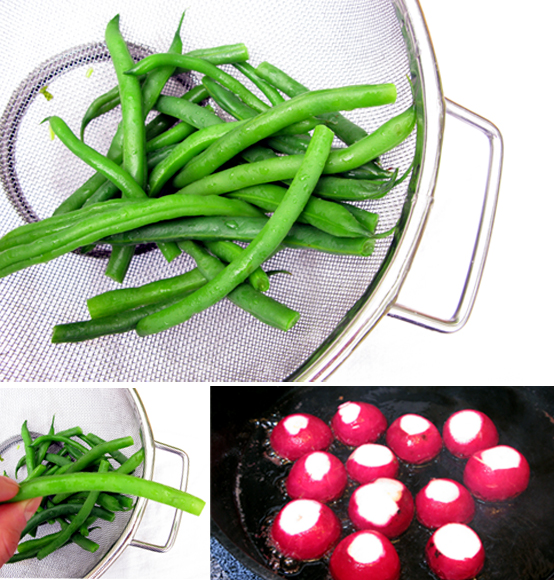 If they're perfectly done, you can run them under cold water to stop the cooking.
As for the radishes, I cut them in half and then cut the rounded ends off too to create some flat surface area for even braising on all sides.
Braise the radishes for 2-3 minutes on each side and then turn the heat down and cover your pan. When they're almost cooked through, uncover the pan, add the green beans and herbs and toss them around for about 3 minutes to get them nice and browned too.
I find that an olive oil and butter combination is really nice for braising these. I also like to use a cast iron pan (personal preference) but it'll work with whatever you've got.
Such a great summertime veggie dish. We sat outside and ate it straight out of the pan.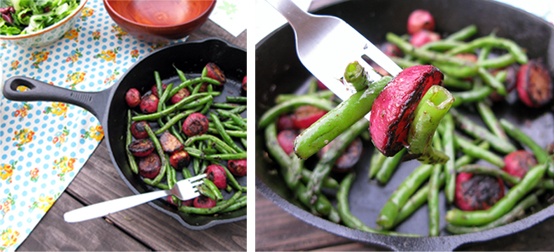 Oh yea, the leftovers were excellent cold in a salad.
Print Recipe
Back to Top
Recipe
Coop/prep time: 30 mins.
You need:
Green beans
About 10 radishes
1 clove garlic
Fresh rosemary and oregano or thyme
1 tablespoon of olive oil
1 tablespoon of butter
Salt and pepper to taste
Directions
Steam green beans for about 3-4 minutes (until bright green and still very firm). Strain and rinse in cold water and set aside.
Trim ends off radishes and half them. Heat pan with olive oil and butter on medium high heat. Once pan is hot, add smashed garlic clove. The garlic is only for flavoring the oil so you should remove it when it turns dark brown or it will burn and become bitter. Add radishes to the pan as well. Braise each side for about 2 minutes. Then turn the heat down to medium low and cover the pan. Add more oil or butter if necessary.
Check radishes a couple times and toss around so they cook evenly. When radishes are tender (should take around five minutes…stick with fork to check) you can add the green beans and herbs to the pan. Toss around for another two minutes. Remove from heat when green beans begin to brown as well. Don't overcook or the herbs will burn.
Finish with some extra chopped herbs and toss. Serve hot or cold.
HonestFare.com