Here we go my darling beet lovers—this soup is for you. It's beets and cabbage, salty, acidic, sweet, hardy AND vegetarian. Borscht is all around incredible and I can't believe I've missed out on it until now!
Borscht is popular in Eastern European countries where it's commonly eaten with a piece of nice crusty bread and some sour cream. I know it wounds a little weird, but have I ever let you down?
Everything (celery, potatoes, beets and cabbage) needs to be more or less julienned. If you have a mandolin, this will be really, really easy to put together. If not, you'll just have some chopping to do. Good time to practice your knife skills.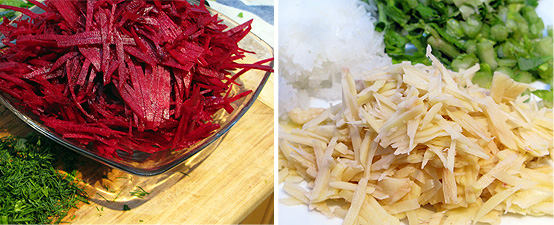 Everything is cooked together until soft. Then you squirt a little lemon juice over top for some nice acidity. Traditionally it's supposed to be left to ferment a couple days before eating to achieve that hint of sour…but for us modern day folks, the lemon juice (or a little white vinegar) works just fine.
I also pureed half the borscht so there would be a creamy texture to go along with the stewed veggies. I did one ladle of the pureed and one ladle of the soft veggies per bowl.
plop some sour cream and extra dill on it and sop it up with some bread.

I had it warm the first couple times I ate it, but then got lazy and just ate it cold right out of the refrigerator. I enjoyed it both ways equally.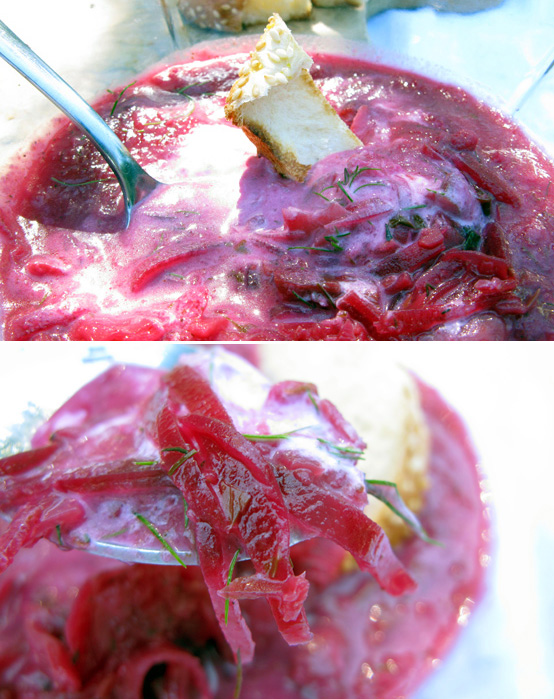 I feel like we should take a moment here to admire this stunning purplish fuchsia color.
Print Recipe
Back to Top
Recipe
Serves 4-6. Serving suggestion: Fill bowls first half way with pureed soup and the rest of the way with chunky soup. Top with sour cream and some extra dill. Bread for sopping up the goodness is imperative!
You need:
3-4 large beets, julienned
2 stalks celery
2 potatoes(about 1 cup julienned)
½ head cabbage (about 2 cups chopped into strands)
½ white or yellow onion diced
1 large clove garlic
Olive oil
Juice from one lemon
1 Tablespoon salt or to taste
Pepper to taste
Fresh dill (approx ¾ cup)
Sour cream
Directions
Wash and julienne beets and potatoes. Dice onion, garlic celery and cabbage. Put potatoes in a colander and rinse to remove excess starch and then pat dry with paper towels.
Drizzle good amount of olive oil on pan and sauté onions, garlic and potatoes on medium heat for 3 minutes. Drizzle a little more olive oil and add ½ cup chopped dill, beets and celery to pan. Add one Tablespoon of salt and some pepper. Toss and cook partially covered until veggies are become tender but not soft.
Add 1 ½ cups of water, juice from lemon and cabbage to pan. Stir and cook COVERED until cabbage becomes soft. Add 1/2 cup more water if mixture seems too thick.
Remove from heat when everything is nice and soft. Let cool some. Purée half the soup (blender or food processor) until smooth and be careful not to burn yourself. Keep pureed batch separate from chunky soup.
Serving: Fill bowls first half way with pureed soup and rest of the way with chunky soup (or you can just mix the blended batch with chunky batch from the start). Top with sour cream and some extra dill. Eat with toasted bread!
HonestFare.com