I wanted to throw together a plate of something for some friends the other night—hence these little goodies.
What I've got here for you is a simple spread of goat cheese seasoned with a little lemon zest, nutmeg and honey topped with blackberries. I got a fresh baguette with a nice crust on it so it wasn't really necessary to toast. I'm sure these would be good on like melba like toast or crackers too…
Tangy, sweet and pretty finger food!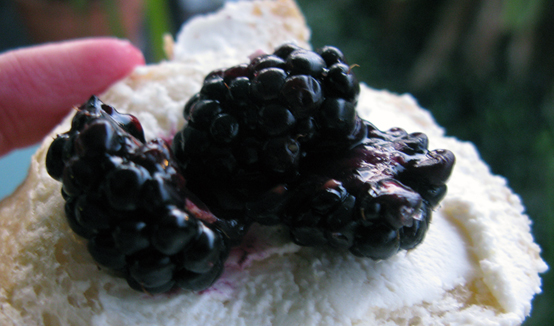 Blackberries are everywhere right now so odds are you can get your hands on some good ones, but if they're too tart just sprinkle them with a little sugar when they're still wet from washing and that should help.
If you can't find blackberries, pear works nicely too!
Print Recipe
Back to Top
Recipe
Coop+prep time: 10 mins.
You need:
About ¾ cup goat cheese
About ½ teaspoon lemon zest
About 1 teaspoon lemon juice
About 1 teaspoon honey
About 1/3 teaspoon nutmeg
Sliced and lightly toasted baguette
Blackberries
Directions
Put goat cheese in bowl. Add lemon zest, lemon juice, honey and nutmeg and mix with a fork until fully and evenly incorporated.
Like a skilled surgeon, vertically slice leeks open. Soak in water and aggravate to get the dirt out.
Slice up baguette and lightly toast. Spread goat cheese mixture atop slices of baguette or toast crackers. Or store the mixture in a container until you're ready to use.
Wash blackberries and sprinkle with a tiny bit of sugar if they're too tart. Halve blackberries and place 2-3 blackberry halves on each portion.
HonestFare.com