What if I told you I'd been keeping something from you? Something BIG! If you're a regular around here, you may have noticed that I haven't been posting as frequently the last couple months, and there's a good reason for that. I'm trying to figure out how to put this….like I need something to bring this announcement to a solid crescendo. But whatever, cause I'm drawing a total blank.
So instead I think I'll just go with: By the way, I'm starting a food truck!
Maybe you already guessed by the images at the top. It's me and my loving partners, Andy and Janelle from black bean deli. We're calling our truck La Empanada. And like the name suggests, we'll be selling gourmet empanadas, as well as seasonal salads and sometimes soups.
And just like that, it's officially been made public all across the interweb. Cool!
Backing up now…
You may or may not know that I left my gllllorious job in advertising last August to pursue something food related. I wasn't sure what that would be, but I did know that I wasn't going to figure it out sitting at a desk eight hours a day. Sometimes the leap is necessary.
Months gone by, and I've learned a ton about the food biz since teaming up with Andy and Janelle. I'll say, working in a professional, busy kitchen has definitely shown me a thing or two. We've managed to pretty seamlessly merge our flavors and styles (mine being what you see all across this blog and there's being traditional Cuban) and the results have been pretty exciting.
Us in action at the opening night event for the Florida Film Festival.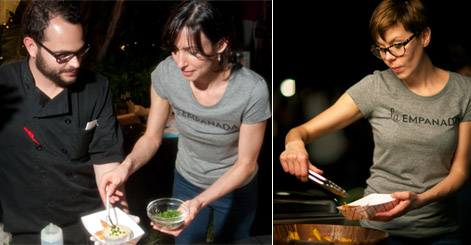 Our main focus has been (is) in developing recipes for empanadas. (This post from a few weeks back gets into some of the combinations we're experimenting with. Anyway, the empanada thing is pretty hot. People love them cause they've got that pocket of goodness to bite into, and they go over especially well at parties and events because they're self contained, therefore easy to eat while you stand around mingling.
When you think about it, they're kind of the ideal street food. Can't think of a handier meal.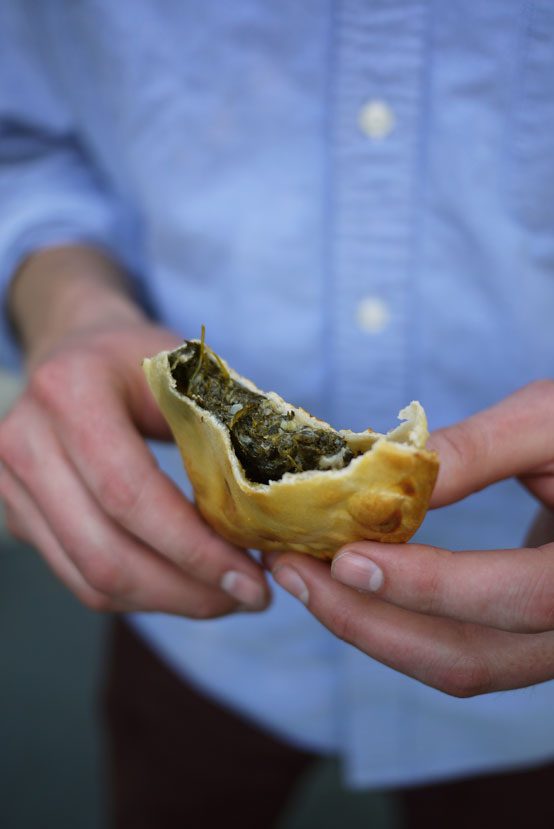 (Spinach & Feta empanada)
The food truck thing has been a conversation for several months now, but it wasn't until the last couple that we really started making it happen. We've been slowly but surely renovating this beauty…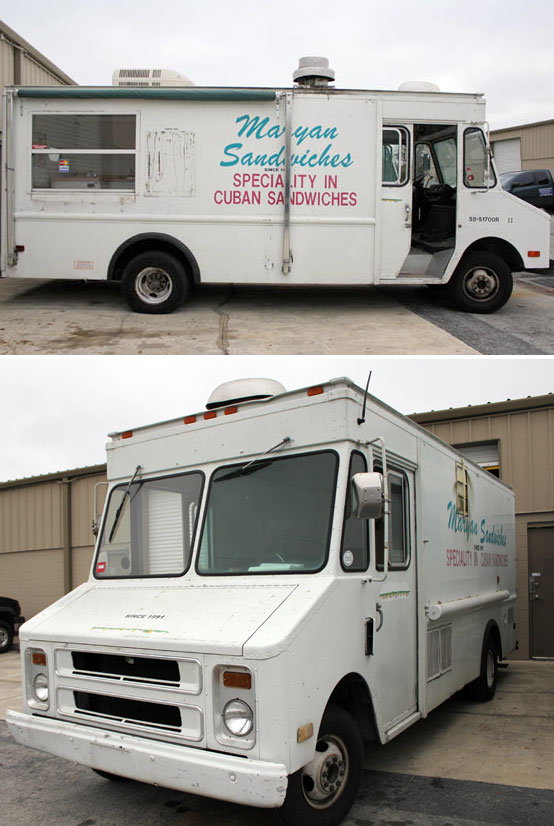 a 1985 Chevy, since January. We obviously haven't gotten to the outside yet ;-)
It's a pretty huge project (quite literally) that presents new and exciting discoveries every step of the way. Like, "Yay, we finally found the perfect wastewater tank!!!" That sort of thing.
So now I'm a truck driver. I hope everyone I used to work with reads this. And I couldn't be more excited about it. Me, driving a 20-something foot rig and slanging empanadas out of a window, who would have thought it?
We've done SO much work on this thing over the last few months its nuts.
Countertops, stainless steal on all the walls, plumbing, equipment, Cceaning, tearing apart, ventilation system, putting in windows where walls used to be, getting permits permits, applications, mechanics, etc, etc.
We've taken it one thing though cause we're trying to do a lot of the work ourselves.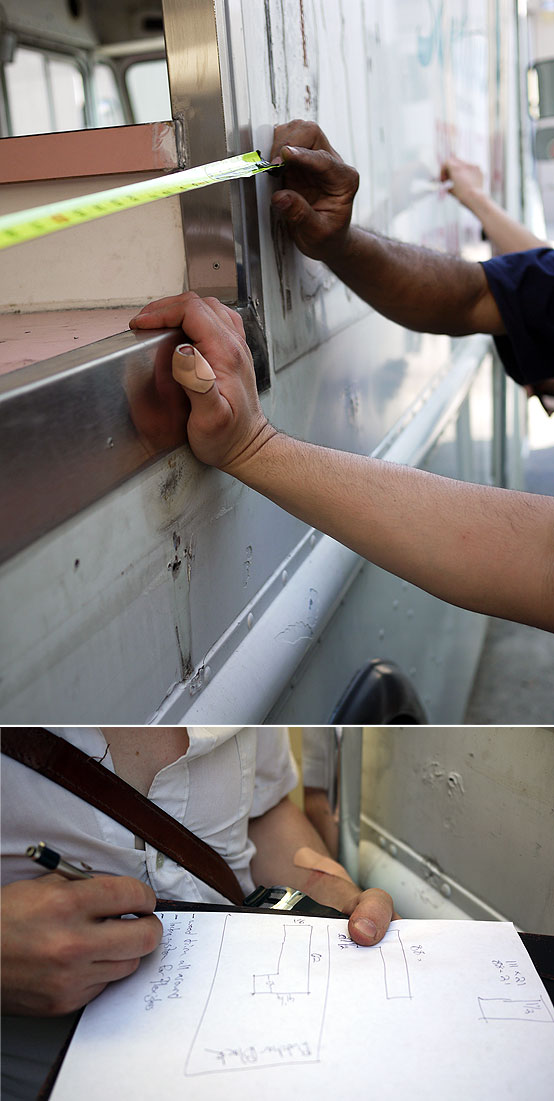 And we've seriously ripped this thing apart in order to renovate it right!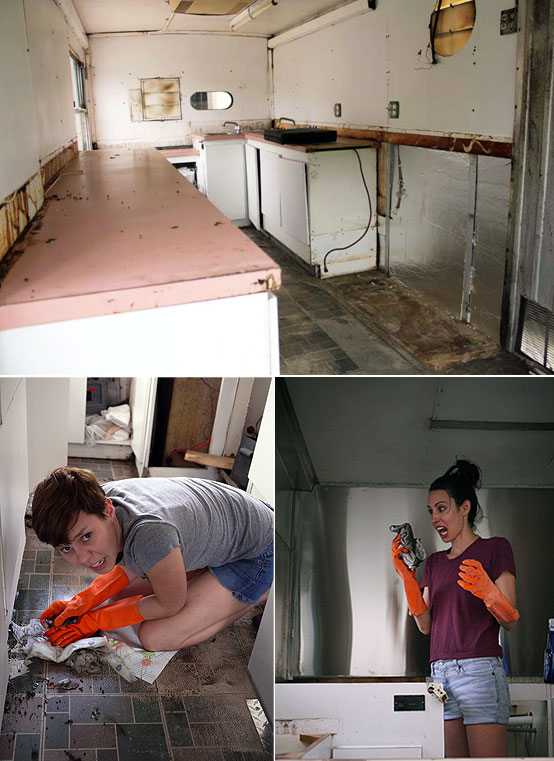 Ew, nasty looking…but that's just many, many years of accumulated grit for ya.
New window before and after…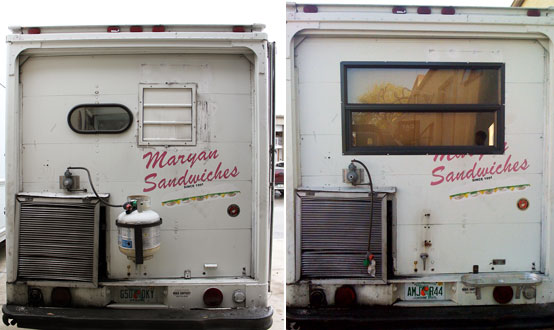 It's exciting stuff!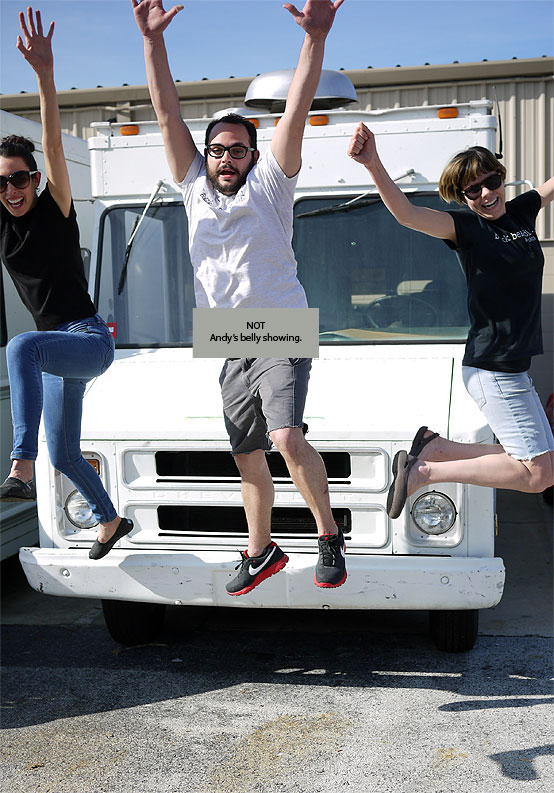 The plan is to use it primarily as a food truck in Downtown Orlando and Winter Park, FL as well as for caterings and special events. But the obvious question on everyone's minds (including ours) is, when will it be ready!? A very good question indeed!
Our goal was April. Then it was May. Now it's June. And now this is the part where I ask for your support.
Please help!
Watch our Kickstarter video to find out how and see how far we've come in the renovation process! I JUST posted it about 10 minutes ago so you guys are the first to see it!!!

**************Click HERE to donate and learn more about our project!*************
* Donating through Kickstarter using your major credit card is 100% safe and secure. AND we're offering all kinds of awesome rewards to our backers! If you decide to donate, you'll have to quickly login (free) and then you'll be routed through Amazon, which is how your card will be charged.
Kickstarter is an organization that seeks to help creative projects get funded through donations. It's all or nothing though, meaning that if we don't reach our goal of raising $7,500.00 within 33 (end date is June 7 at 10:45 am) days, we don't get a dime and no donations are processed! But no pressure ;-)
I consider you all friends and supporters of my ventures (just for reading this blog) regardless of whether you decide to donate to this project or not. And so you know, I gather a huge amount of inspiration from the comments and the sweet emails I get and that's what's really helped propel me in this direction. All that stuff is invaluable to me.
That said (and now that we're two loans and a credit card deep) we could really use any contribution you can make! Ha. Think about it and throw a few bucks our way if you can.
Lots of love and appreciation,
Gabi
**************Click HERE to donate!*******