My adventurous little mom gets to do all kinds of fun outdoor stuff now that she lives in Portland, OR. EVERY time I talk to her she's up to something cool…hiking somewhere…exploring new and rocky shorelines…roaming through botanical gardens…whale watching…biking and getting stuck in the rain. Retired life sounds grand – they say you've got to stay active, right? Anyway, of all her escapades, the abundance of fresh and wild edibles she has at her fingertips is what I'm most envious of . Lucky for me though, every once in a while she sends me a little taste of what she's been up to. Homemade pumpkin tarts made from the pumpkins she collected at a pumpkin patch on some beautiful island …or wild blueberry jam made from shrubs she picked over herself. These days she's been foraging for mushrooms. I was thrilled to recieve this package full of orange and white chanterelles and a couple of coveted matsutake mushrooms last week. Oh the perks of being an only child. Thanks, mom! xoxo
I was so eager to eat these chanterelles right up while they were as fresh as possble that I really didn't want to think too much about how to prepare them. I kept it super simple. Just sliced them up and let them cook in their own juices on a cast iron pan. No oil, just a tad of salt and some scallions. I'd never cooked mushroom quite like that and was iffy about not putting any oil on the pan, but was advised to do it that way so I did. Worked out great! Look how much of their own juices the release!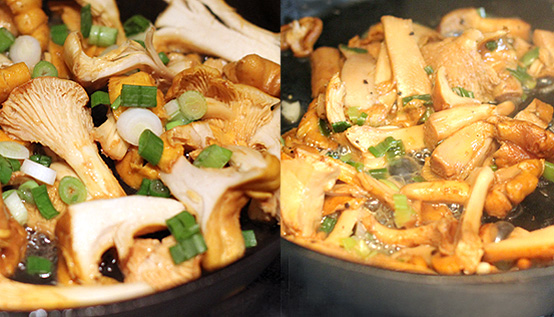 Once soft, I added a little drizzle of olive oil and some white wine. We had a batch on some flatbreads, but I ended up eating most of them straight out of the pan!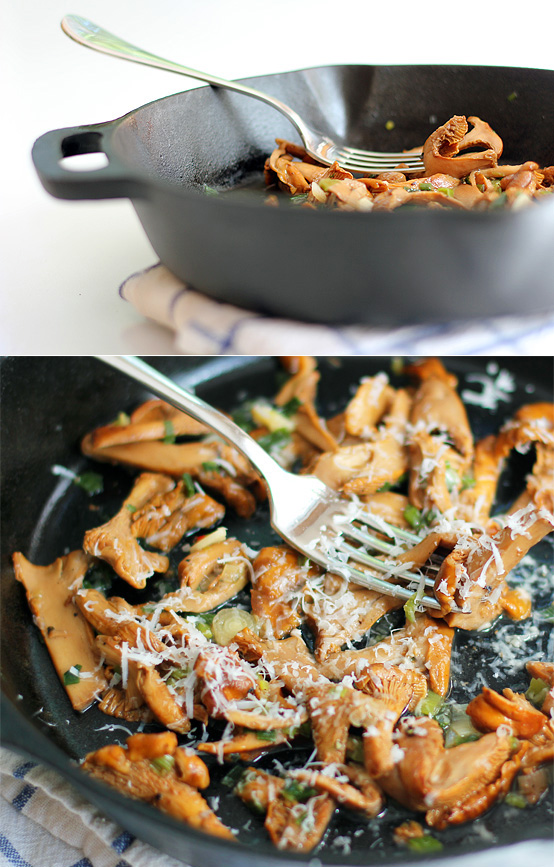 Next up were the matsutake mushrooms a.k.a. "pine mushrooms". Highly regarded and pretty hard to come by. Apparently these babies can go for $200 per pound in the U.S. and up to $1,000 per kilo in Japan, where they're considered a delicasy. They have a flavor like no mushroom I've ever tasted before. Very meaty and fragrant and almost spicy, if that is even possible. Not like hot spicy, it's spicy in an earthy, nutmeg/clove kind of way. I don't know…that's my take.
They're stems are tough like little tree trunks so you really just cook the caps. I sliced them thin because I read that they can take quite some time to cook.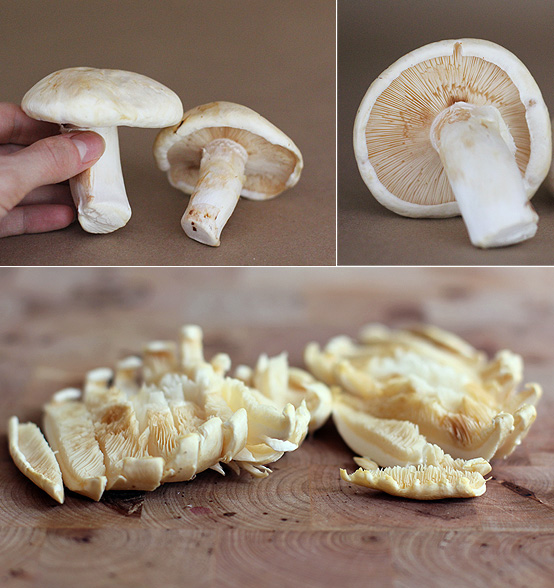 Matsutakes are often used in soup because of their strong flavor creates a nice broth. The soup I made is a combination of a few recipes I found. Very simple too – just let the mushrooms cook in water with some carrots, soy sauce (or tamari) and rice vinegar and a pinch of salt.
I added the bok choy close to the end so it wouldn't overcook and topped it off with a tad of sriracha hot chili sauce and some fresh scallions.
P.S. I like to wash bok choy in a white vinegar and water bath and separate it into individual stalks to make sure all the dirt that likes to hide in the cracks comes out.
This soup has a really nice and clean flavor. One of those healthy and satisfying soups that makes you feel physically good and rejuvnated immediately after eating it.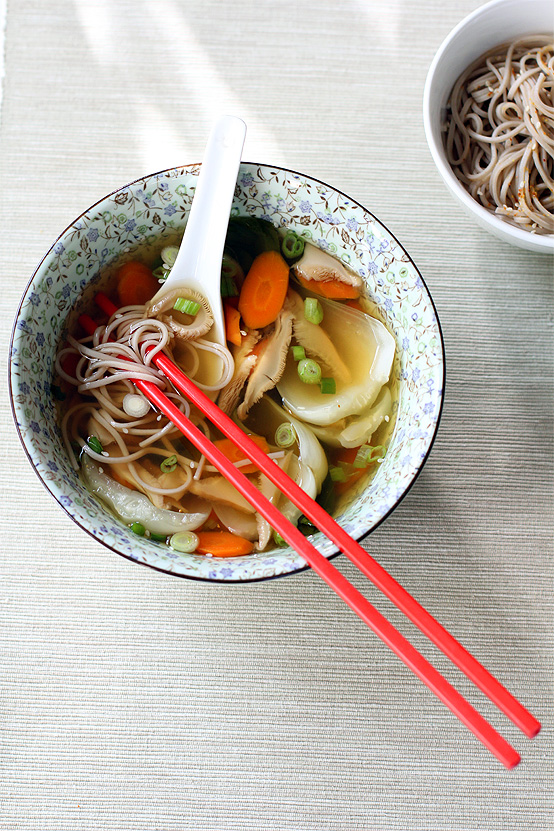 I cooked some soba noodles on the side to eat long with it. Tossed them in some sesame seeds and a touch of oil and soy sauce and topped with Togarachi chili powder.
Print Recipe
Back to Top
Recipe
Prep + cook time: 25 mins Serves: 2 Note: This is not a very exact recipe. I was kind of just throwing things in there…a combo of some traditional Japanese recipes for matsutake mushrooms. Feel free to substitute shiitakes.
You need:
2 large matsutake mushrooms (or sub with shiitakes if not available)
Handful of freshly diced green onions
2 carrots peeled and cut into disks
A couple bunches of baby bok choy separated into individual stalks
Water (about 2 1/2 cups)
Pinch salt
Soy sauce
Drizzle sesame oil
Rice vinegar
Soba/buckwheet noodles
Pinch of sesame seeds
Sriracha hot chili sauce (optional)
Togarachi chili powder (optional)
Directions
Slice mushrooms into very thin slivers. Peel and chop carrots. Bring water to simmer and let mushrooms and carrots cook partially covered with pinch of salt, 1 tablespoon of rice vinegar and 2 tablespoons of soy sauce for about 25 minutes. Meanwhile, separate bok choy into individual stalks and rinse well in a water and white vinegar bath. Set aside.
Cook soba noodles in separate pot. When done, toss in a drizzle of sesame oil and a tiny bit of soy sauce. Top with a few sesame seeds and togarashi chili powder (for some extra kick) and set aside to enjoy with soup.
Taste broth. The flavor of the mushroom should dominate, but you may want to add a touch more water if a lot has evaporated on you. Add more soy if necessary. Taste mushrooms to make sure they are cooked to (chewy but not tough). If all is well, add the bok choy and cook for just a minute. Remove pot from heat when bok choy is bright green and cooked through, but still pretty firm at the stalk. If you overcook it, it'll turn an ugly green color.
Place in bowls and sprinkle with diced green onions. Add a little squirt of Sriracha if you like.
HonestFare.com