A new recipe AND an awesome giveaway – what a way to start the week! I'm sure you're all curious about the giveaway so we'll start with that.
One of you will win the gorgeous serving dish/casserole featured in this recipe.  (Well, not this exact dish, you'll get a brand new one.) It comes to us from VIETRI, a family owned company that imports handcrafted ceramic tableware from Italy. This particular item is from their Bellezza Collection.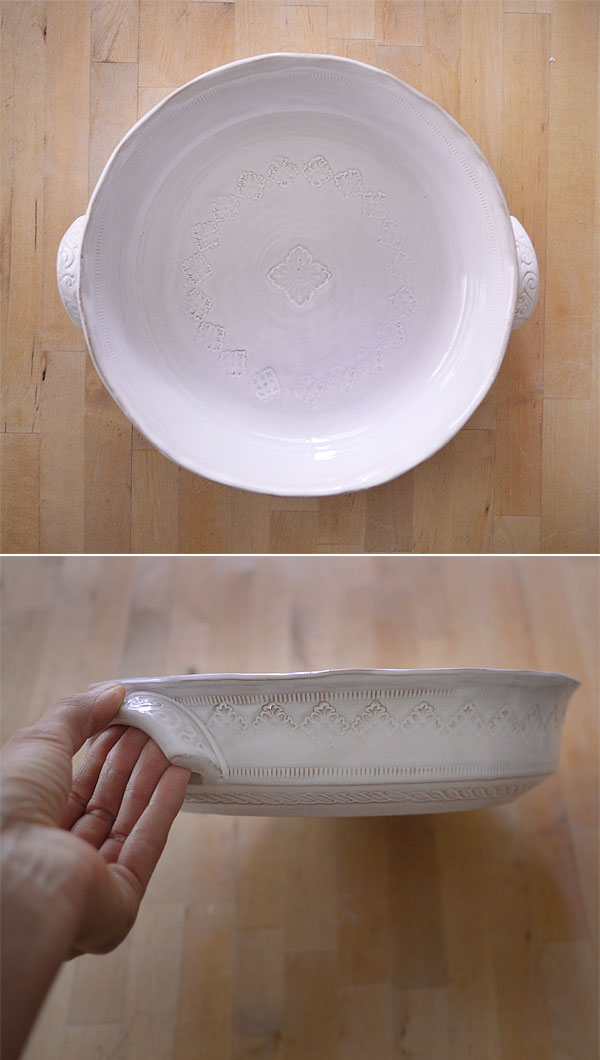 * GIVEAWAY DETAILS *
Sorry, this giveaway has ended. But read on for the recipe!
WHAT YOU'LL WIN:
This beautiful handmade ceramic serving dish/casserole (retails for $92).  I love this piece.  It's simple and elegant and the detailing is just enough without being ornate.  It looks great sitting on the table, but it's also oven safe so you can prepare anything from fish to bread pudding right in it!
HOW TO ENTER:
Visit Honest Fare on Instagram and like the photo I put up this morning of the beet pesto pasta featured in this post. That's it, super easy. Again, all you have to do is click here to be taken to my Instagram and like the photo of the beet pesto pasta. It's the exact same photo featured at the top of this post actually. The winner will be randomly selected from the list of people who liked the photo on Instagram and also notified via Instagram (in the form of an @ mention) by Monday, October 14, 2013. I'll also announce the winner here on the blog as well if that's okay with you. The ceramic casserole dish will be sent to you directly from VIETRI.  Enter to win!


IF YOU DON'T HAVE INSTAGRAM:
You should consider signing up; everybody's doing it!  It's really the best way to enter for this giveaway, but If you write me a really sweet comment at the bottom of this post, I might consider entering you anyway because I hate to discriminate against non social media folks, like my mom and lovely aunt Loretta, for example.
GIVEAWAY PERIOD:  Sorry, this giveaway has ended. But read on for the recipe!
Starts Monday, October 7, 2013
Ends Sunday, October 13, 2012 at 11:59 pm est.
Just make sure you like the photo no later than Sunday night! Best of luck to you all and I'll be in touch if you win!
P.S.
As someone who has been dabbling in ceramics for many years, I was especially pleased that in addition to being absolutely beautiful, the piece VIETRI sent me is extremely well made.  VIETRI has a really diverse collection of tableware ranging from the more ornate and decorative to the very simple and modern. Have some fun perusing  Vietri's tableware collection after you enter the giveaway!
* AND NOW FOR THAT RECIPE *
This beet pesto is my new jam.  Literally, I've been having it on my toast for breakfast all week and can't get enough.  I'm showing this pesto on whole wheat pasta with sautéed beet greens and topped with ricotta cheese, but it's actually amazing as a sauce or spread on bread, sandwiches, pizzas, crackers, etc. And would you just look at that color!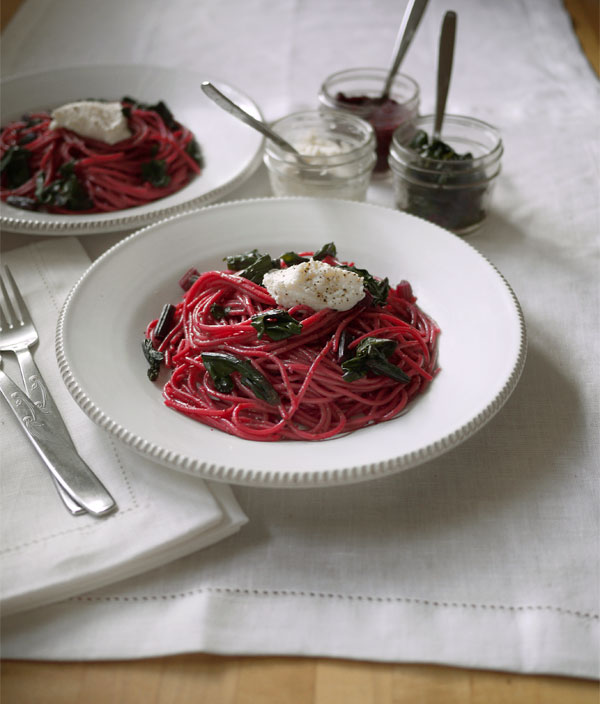 The pesto itself is a simple blend of roasted beets, garlic and thyme, which give it an earthy and sweet balance with a hint of smokiness; and parmesaen cheese, almonds and olive oil, which add that perfect creamy/nutty flavor without being too rich or heavy.  It's really quick to make and the beets can either be roasted in the oven or just sautéed in the pan until tender. However you want to get them soft and flavorful is fine.  Remember, you'll need to let them reach room tempy before pureeing.
I recommend you blend up the almonds before adding in the cheese and beets.  This ensures that the nuts become fine enough and you don't end up with any big chunks.  Once the almonds are the consistency of dry grits like you see below, you're safe to add in the beets, cheese and olive oil and just whip it all together until it's nice and creamy.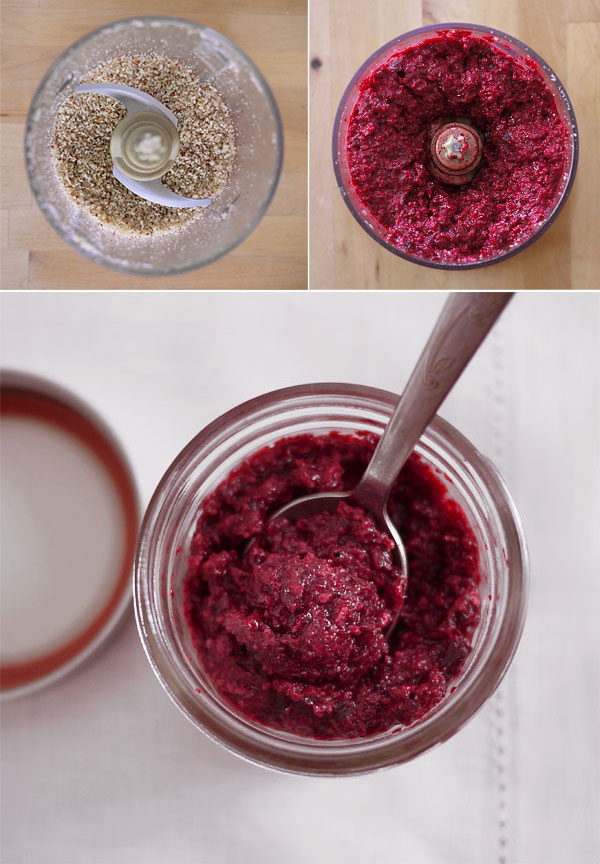 Beet greens are a must in this pasta dish because they add that leafy green component, not to mention that beet greens are the best!  Such a bummer if ever I'm forced to buy the beets without the leaves attached. Anyway, these are just lightly sautéed so they're still a tad firm for that nice texture.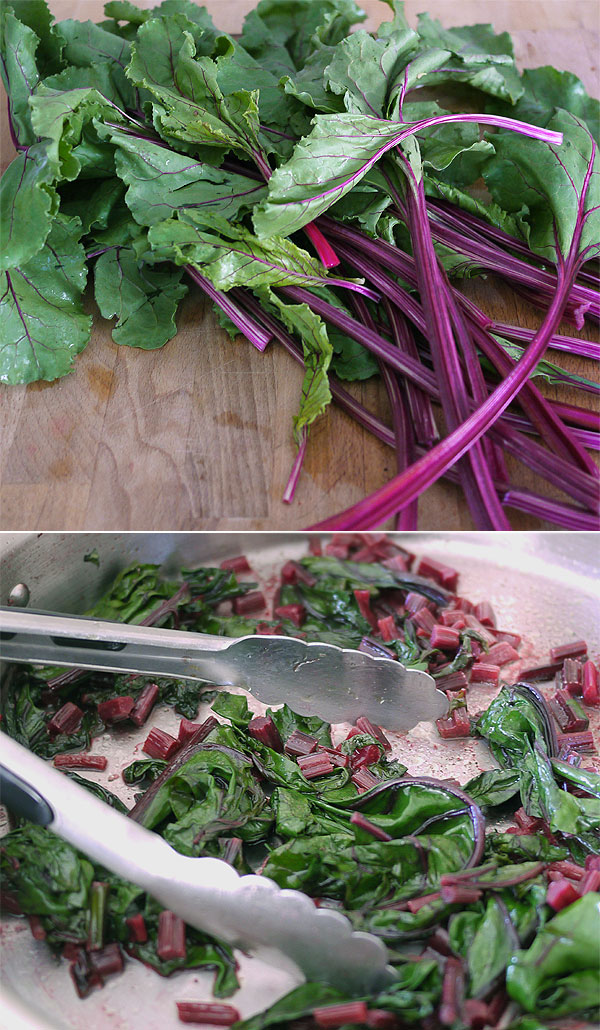 I love the balance of this dish. The bitterness of the greens is such a nice contrast to the beet pesto and creamy ricotta. Serve with some additional pesto, ricotta and beet greens on the side in case anyone wants to add on some more.
I hope you'll give it a try and enter that giveaway too!
Recipe
Makes about 16 oz of pesto. Great on pasta or just used as a spread on bread or sandwiches, etc. Feel free to skip the cheese if you're vegan.
You need:
For the pesto:
2 medium sized beets peeled and cut into cubes (about 1.5 cups worth)
2 cloves garlic
2 sprigs of fresh thyme
1/3 cup sliced almonds
1/4 cup parmesan cheese
1/4 cup olive oil plus some for drizzling
Kosher salt and cracked black pepper to taste
For the rest of the pasta:
Beet greens (if available) washed and roughly chopped
Ricotta cheese
1lb whole wheat pasta of your choice
Splash sherry or rice vinegar
Directions
For the pesto:
Wash and peel beets and cut into cubes. Peel and roughly dice garlic. Coat bottom of pan in olive oil and heat. Sauté beets with salt, pepper, garlic and fresh thyme on medium high heat with lid on, or roast in oven covered until soft all the way through. Add a little water to pan if you encounter any sticking. Taste and add a teaspoon of turbinado sugar and toss for added sweetness if needed. Set aside to cool.
Pulse almonds in food processor until they are the texture of raw grits or coarse meal. Add room temperature beets and parmesan cheese and 1/4 cup olive oil. Whiz until smooth, adding more olive oil to keep things moving if necessary. Taste and add additional salt if needed. Add more parm cheese for an even richer flavor.
For the pasta:
Add small drizzle of olive oil to a pan and heat to medium high. Add beet greens to pan with small splash of rice or sherry vinegar and cover pan with lid. Remove lid once greens begin to steam and wilt a little, and continue to cook uncovered until just tender. Remove from heat and keep covered until pasta is ready.
Salt a pot of water and boil pasta to your liking, then strain and reserve 1/2 cup of pasta water. Toss hot pasta in beet pesto while slowly adding a little pasta water to help incorporate the pesto evenly on the pasta.
Serve pasta warm, topped with beet greens and ricotta cheese and a little drizzle of olive oil.
HonestFare.com