I've been thinking about how awesome grilled cheese sandwiches are lately, which is sort of interesting cause I so rarely eat them. I'm pretty sure it all started last month when my hungry eyes came upon Milk Truck while roaming around the Brooklyn Flea. I was terribly tempted to try one of their unique grilled cheeses, but faced with so many great food options, I decided to go for Asia Dog (so good!) instead. I think it was just too damn hot out for a grilled cheese, but I've had grilled cheese on my mind ever since.
Last week I said enough is enough and decided to come up with a fun grilled cheese of my own and finally satiate that craving. What comes first when inventing a grilled cheese sandwich – the bread or the cheese? For me it was definitely the bread! I went with beer bread, my favorite bread to make (okay, pretty much the only bread I make).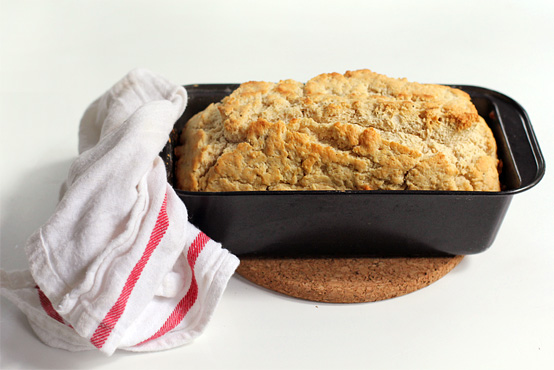 I followed my usual beer bread recipe , but added a bunch of cracked black pepper to the dough for some extra kick. The rest of the sandwich was inspired by Wisconsin's native beer and cheese soup also which incorporates cheddar cheese, Worcestershire sauce and mustard.
I'd thought about just adding the Worcestershire sauce directly to the bread dough, but was kind of iffy about it alongside the already strong beer flavor in the bread. So instead, I added a good amount of the Worcestershire to the caramelized onions while cooking. Oh man, the flavor was so good!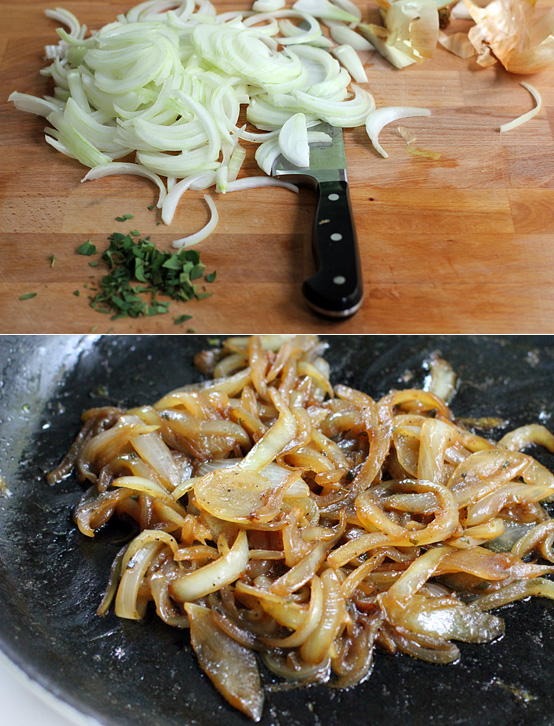 For cheese, I went with sharp cheddar and a creamy fontina for some contrast. Then I added a nice layer of Dijon mustard before stacking everything up and grilling it with a little butter and olive oil. I like the combination of the butter and olive oil because I think using just butter can sometimes be overwhelming and take away from the flavor of the cheese.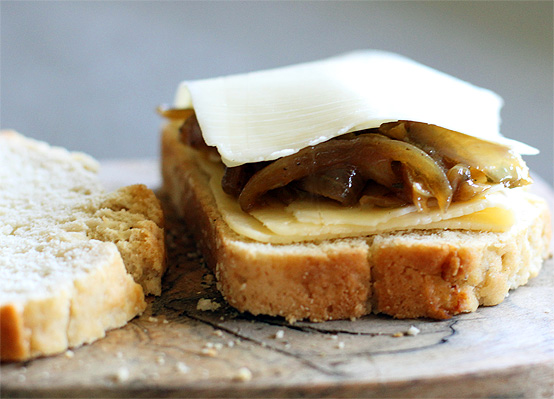 So how was it? Um, amazing. The beer flavor with the sharpness of the cheese and then the sweet and tangy onions was so good! Really, really happy with it. There was one thing though: While the flavor of the beer bread was perfect, it doesn't really hold together that well. Beer bread is pretty dense and though it slices fine, it lacks the sponginess that you get with other breads. So basically, it gets messy when you take a bite. I didn't mind it though…just make sure you're eating it with a plate. see how the cheese spills out a lot.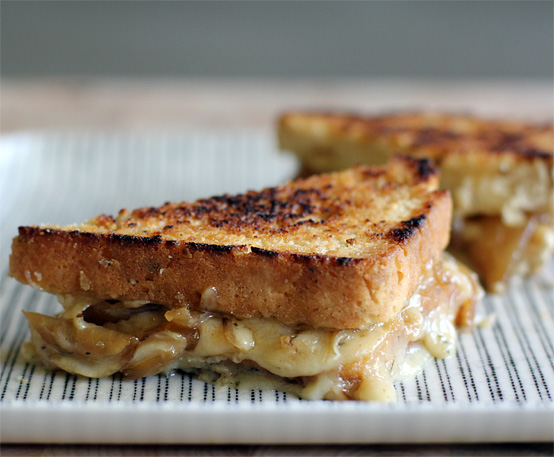 I'm thinking it'd also make a great open-faced sandwich, meant to be eaten with a fork and knife.
Print Recipe
Back to Top
Recipe
Cook + prep time: 20 minutes (assuming the bread is already made). You'll want to eat this sandwich over a plate or even with a fork cause it gets messy! It's great as an open-feced sandwich as well, eaten with a knife and fork.
You need:
Thinly sliced white onion
Some oregano
Worcestershire sauce
Salt
Black pepper
Sharp cheddar cheese
Fontina cheese
Dijon mustard
Directions
Slice onions thin and dice some fresh oregano. Set burner to medium-high heat and drizzle olive oil on pan. Add onions to pan and make sure there is enough oil to lightly coat them all. Sauté onions until they begin to wilt, then add a pinch of salt and pepper, oregano and a couple splashes of worcestershire sauce. Reduce heat to medium low and cover. Cook covered until onions become soft/carmalize (about 10 minutes). Add more worcestershire sauce to taste if you're into it.
Spread a layer of Dijon mustard on one slice of beer bread. Place desired amount of cheese on top. Place a pile of onions on top of cheese and top with another slice of cheese and bread.
Carefully place sandwich on a pan that's lightly greased with olive oil and butter. Grill both sides on medium low heat.
HonestFare.com