I love a good chilled bean salad. Especially one that's got a lot going on…like this one!
Canalini and black beans, avocado, radishes, apples, cilantro and faro, tossed in a creamy cilantro and apple dressing that's pretty ridiculous, if I do say so myself. Balanced, hearty and super fresh so it's perfect for summertime!
Tastiness aside though, this salad is a fantastic exercise in cooking by texture. I can explain.
So imagine you're eating this salad without your taste buds on. Wait, what? Yeah, you're eating and eating it because it's amazing, but you can't taste a damn thing, which is actually fine because your mouth is happily captivated by all the textures going on. The tenderness of the beans – first the buttery cannelinies and then the black beans, slightly more firm so they can be noticed. The crispness of the apple and its little bursts of juice awaken your mouth and keep things moving. The supple avocado melts to coat and hold everything together. The farro, which kind of hides in the shadows of it all, is the secret chewy textural component that you wouldn't be able to quite put you finger on, if you hadn't put it in there yourself. And the paper-thin radish slices punctuate every bite with their snappy crunch.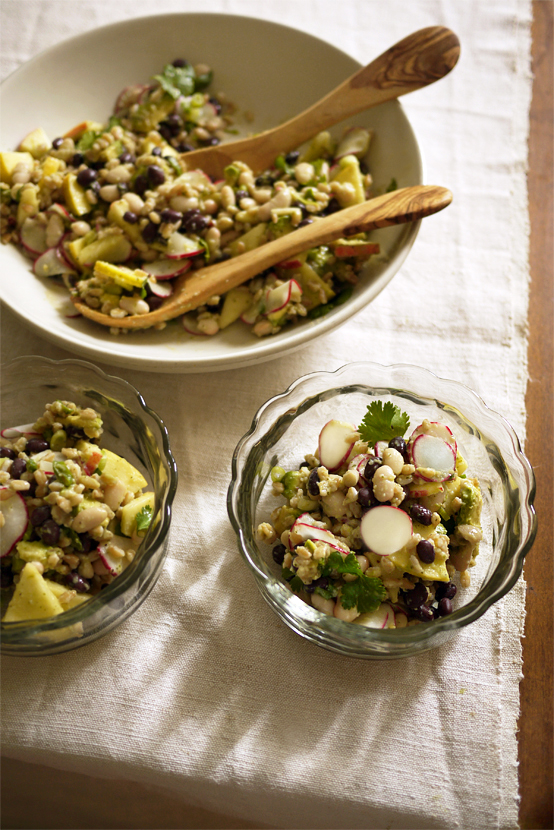 So, who cares how awesome this salad tastes. It's worth eating for the oral stimulation alone. Texture has as much to do with the success of a dish as does flavor. The composition and character of each ingredient, and even how it's sliced changes things even further. I went paper thin with the radishes; small triangles with the apples and ¼ inch cubes with the avocado. Slight variations in size, but all on the small side worked great here. Just think how giant chunks of radishes would have changed everything and made the dish a lot less manageable.
Oh yeah, I also wanted to mention the dressing. I just blended up half an apple, with some cilantro, rice vinegar, lemon juice, olive oil, salt, pepper and a tiny nib of a shallot. And in the end, I decided to blend in a couple scoops of Greek yogurt for extra creaminess (and because I find it difficult to go without it these days). Totally optional.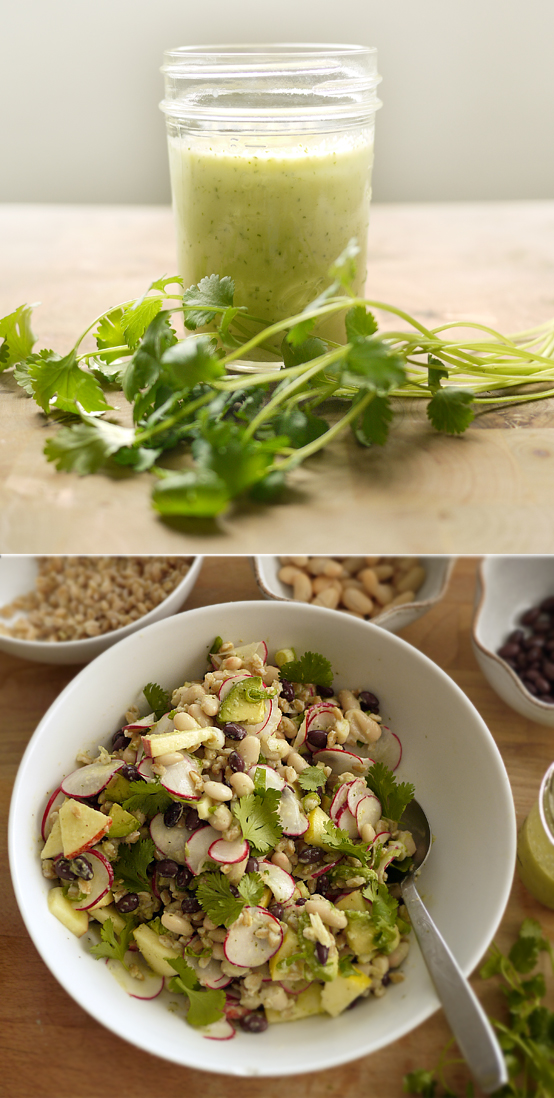 Mixing grain(s) to a bean salad (or any salad for that matter) does great things for texture and overall satiability too. But it has to be the right grain, or else we're talking mush. I used farro here because it's somewhat dense (similar to barley) and doesn't fall apart or get lost in the mix. If you don't typically cook with farro, give it a shot! You won't be disappointed. It cooks more or less like rice, but requires a greater water ratio (1/3).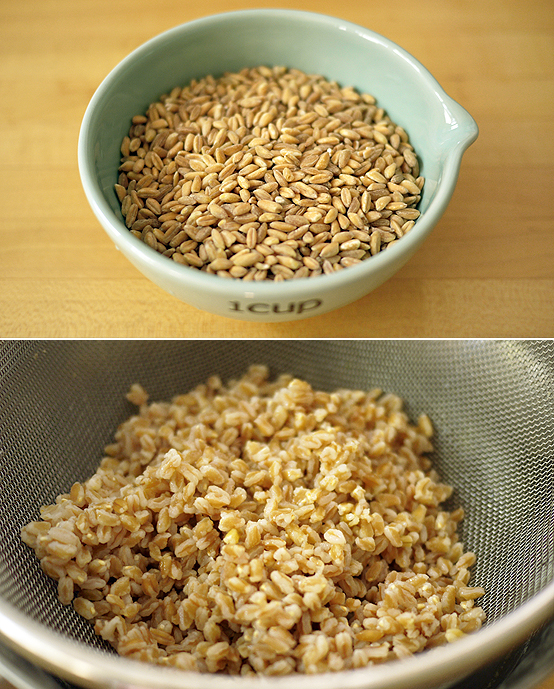 This is a good dish to make a bunch of and eat for a few days. And you can add in other ingredients on day two or three so you don't get bored – for example, I like to mix in some raw kale with an extra scoop of greek yogurt! It's easy to pack for lunch or to the beach. A perfect dish for the summer glow…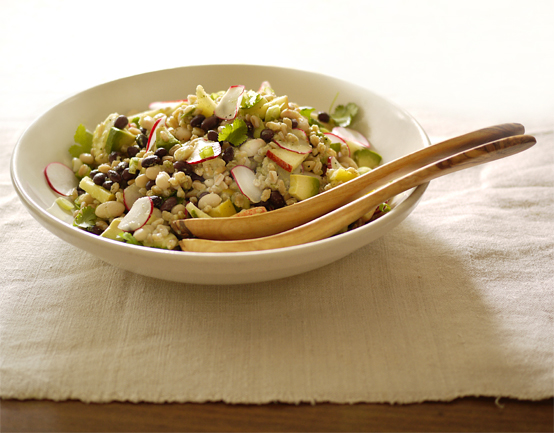 Print Recipe
Back to Top
Recipe
Cook + Prep time: 25 mins. Serves 4. Pearled farro has the outer husk already removed to reduce cook time. Substitute farro with barley if needed. Use canned beans if you're pressed for time!
You need:
Salad components:
About 2 cups cooked farro (1 cup uncooked)
1 cup cooked black beans
1 cup cooked cannellini beans
5-6 radishes sliced paper-thin
1 avocado sliced into 1/2 inch cubes
1/2 apple sliced into small triangles or matchsticks
Salt and cracked black pepper
Juice from half a lemon
Several few sprigs of fresh cilantro
For the apple cilantro dressing:
3 Tbs rice vinegar
Juice from 1/2 a lemon
1/2 an apple
3 Tbs olive oil
Handful fresh cilantro
1/4 of a shallot
Pinch of salt and pepper
1 1/2 Tbs Greek yogurt (optional)
Directions
For the apple cilantro dressing:
Wash and chop half an apple into cubes (reserve other half for salad.) Add apple, lemon juice, olive oil, pinch of salt and pepper, cilantro, rice vinegar and shallot to food processor or blender. Pulse until smooth, adding a tiny drizzle of water and/or more olive oil to thin.
For an even creamier and less acidic flavor, add in Greek yogurt and blend again until silky smooth. Place in fridge to chill.
For everything else:
Rinse farro and place in pot with at least 3 cups of salted water. Bring to low boil and cook until grains are al dente or chewy (about 15-20 minutes). Drain out excess water and rinse in cold water. Place in fridge to chill.
Slice half an apple into small triangles or matchsticks, place in a bowl and toss in lemon juice. Cut avocado into 1/2 inch cubes. Slice radishes paper thin. Wash and pluck several leaves of cilantro from stems.
Place grains, beans and the above in a bowl and toss with salt and pepper. Pour dressing over and toss again. Add any additional salt and pepper.
HonestFare.com