These muffins are absolutely delicious. Divinely moist with chunks of banana and hints of cinnamon. Annnnd, these muffins are also good for you. I swear! Why so good? No flour. No butter. No oil. How's that to start? And how's that possible, you ask?
The almonds!
What makes these muffins (or cake/bread if you choose to do that instead) so great for you is the almond factor. Instead of refined flours we use almond meal, which is very easy to make just by pulsing your almonds in the food processor a few times. There are just tons of health benefits linked to eating almonds (like lowering cholesterol), and almonds are loaded with vitamin E, antioxidants and monounsaturated fats (the same fats found in olive oil). By the way, go ahead and use almonds with the skin on because the flavonoids found in almond skins paired with the vitamin E in the their meat have been shown to more than double antioxidant power in the body. More on that here.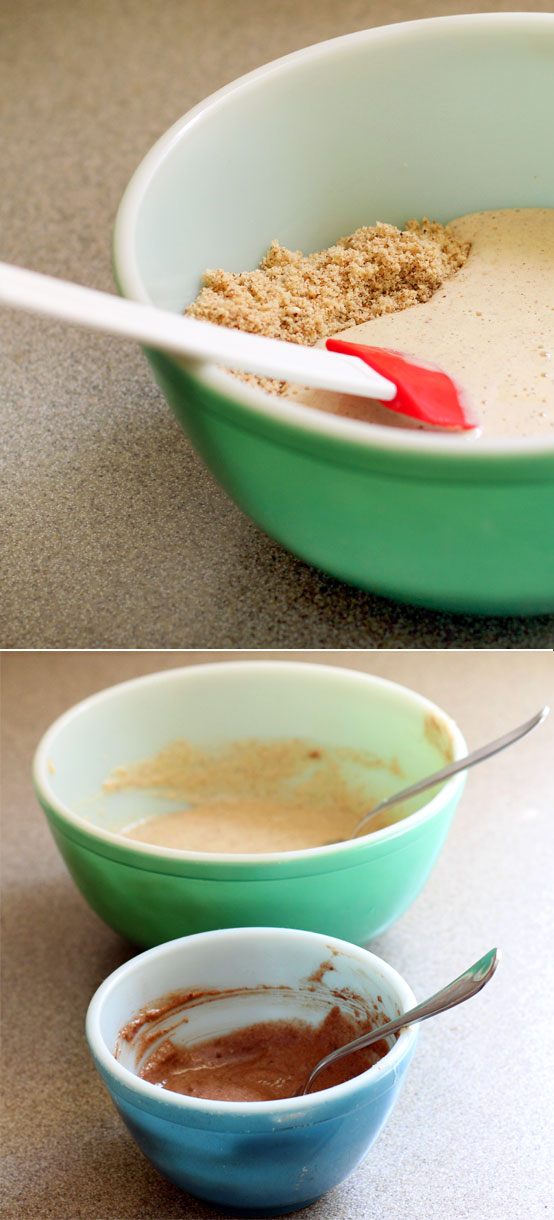 The eggs and almonds pack a good amount of protein, and then paired with the sugars in the banana, these muffins give you a nice boost of long lasting energy. Really nice for the morning.
So this recipe is pretty much brilliant, and I can say that because it's not originally mine. It came from Jules over at the Stone Soup who is committed to cooking using 5 ingredients or less. Love that. (I did add to the recipe a little here and there so it's not as simple as the original, but whatever.)
It just blows my mind when baking is so simple, successful and so guiltless too! One important thing to watch out for though is that you don't pulse the almond meal too long in the food processor or you'll end up with almond butter. Just stop when it gets like couscous. And if you can, also use a food processor to beat the eggs together with the banana so the mixture gets really really fluffy – this will help with the overall texture. If you can handle these two steps, you'll find this recipe pretty no fail. I've made several variations of this same core recipe many times. It works great as bread or muffins, and feel free to add in more cinnamon and even some raisins. For today though, I've added cocoa powder to half the batter to give it a chocolaty center!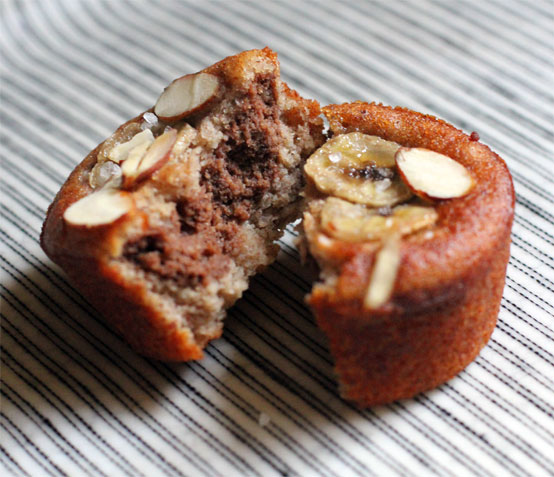 Everyone loves a little chocolaty surprise. It's super easy to do this. You just mix some unsweetened cocoa powder into 1/3 of your batter. Then you do a scoop of original batter, followed by a small scoop of the chocolaty batter, followed by another scoop of the original batter. The result is a subtle hit of cocoa goodness at the center of each muffin that nobody will know about until they take a bite! (If you're doing bread, just follow the same idea using your bread pan.)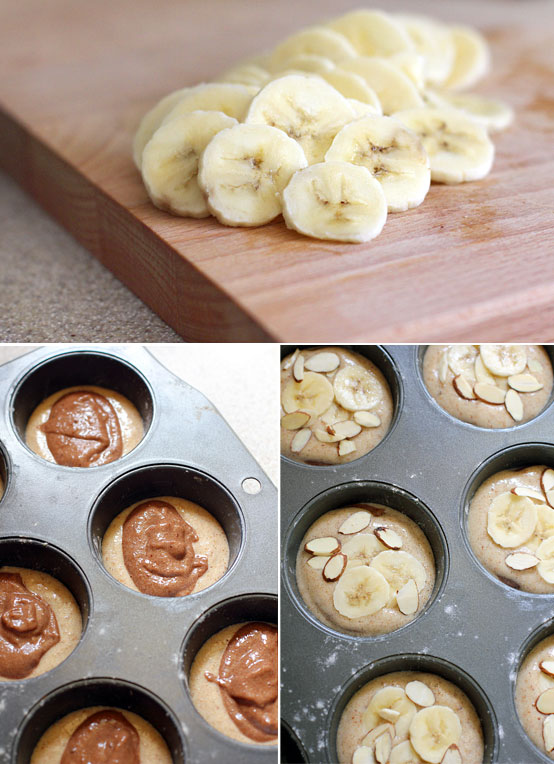 Topping it off with some thinly sliced bananas & almonds and a few dots of coarse sea salt is a nice touch too. Oh yes, that salty + sweet.
Print Recipe
Back to Top
Recipe
Prep time: 10 minutes. Cook time: About 45 minutes or until skewer comes out clean. I like to use lightly spotted bananas for this recipe, if you use very ripe ones it may take a tad longer to cook through. You can omit the cocoa power and add in some additional cinnamon and even some raisins if you prefer! I like the salty crunch of the coarse sea salt on top, but that's up to you too.
You need:
9oz sliced almonds + some extra for topping
1/2 teaspoon baking powder
2 eggs
3 oz sugar
1/2 teaspoon cinnamon
3 bananas (approximately 1/2 lb peeled) + extra slices for topping
Pinch of coarse sea salt (optional for topping if you like)
2 tablespoons unsweetened cocoa powder (if doing cocoa center)
Directions
Preheat oven to 300F. Grease baking pan of choice (either an 8-9 inch fluted flan tin, a bread dish or muffin tin) and dust with flour OR lightly moisten baking paper and line tin.
Whizz 9 oz almonds and baking powder in food processor until finely ground, but be careful not to go too far or you'll end up with almond butter. Take it to the consistency of raw grits. Set aside in bowl.
Whizz eggs, sugar, bananas and cinnamon for about 5 minutes or until pale and really fluffy. Pour over almond meal and stir through.
If adding cocoa powder, place 1/3 of batter into separate bowl and stir in 2 tbs of unsweetened cocoa powder. To create the chocolaty center, first pour 1/2 your original batter into baking tin, then do your dollop of cocoa batter and then pour remaining original batter to cover cocoa. Top with thinly sliced bananas and almonds. Bake about 40-45 minutes for bread and 30-35 minutes for muffins (or until top is browned and skewer comes out clean). You just don't want to overcook in the oven because they'll continue to cook a little as they cool. Sprinkle on sea salt immediately after removing from oven.
HonestFare.com