Last weekend was a girls' weekend. What exactly distinguishes a girls' weekend from any other? No chest hair, obviously, and a whole lot of the kind of giggling and carrying on that those with chest hair would probably rather not be around for. It's the kind of weekend marked by such exciting activities as, the compulsory mani/pedi, two-hour bra shopping extravaganzas and cocktails! Pretty sickening, I know. Oh and to make matters even worse, this all took place in Palm Beach! But at least we didn't watch Sex and the City 2 or anything.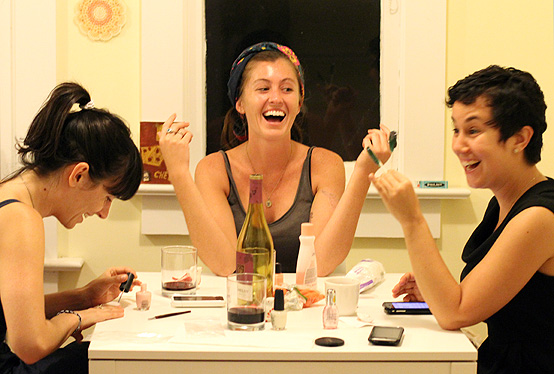 (Please note the empty bottle of wine and the nail polish remover. Trouble.)
Anyway, it was so great to spend a couple days with my two nearest and dearest and ever-talented girlfriends, Jen and Dana. We've been friends for almost 15 years…which I think is definitely something worth celebrating every so often.
Over the course of this gender-specific weekend, we invented a couple pretty fantastic cocktails so let me tell you about those before I get to the later refined Aqua Verde Aperitif.
First there was The West Palm Peach – muddled peach and ginger root with vodka and soda water and a twist of lemon. Fantastical.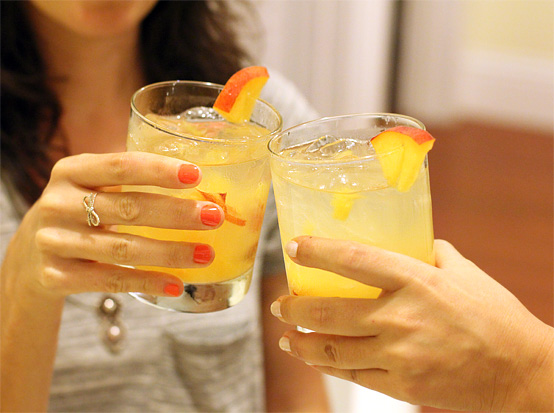 Then there was the Cool as a Cucumber Cocktail – muddled cucumber (Apparently we love to muddle?) with vodka, a little raw sugar, mint, soda water and a twist of lemon. Oh so refreshing.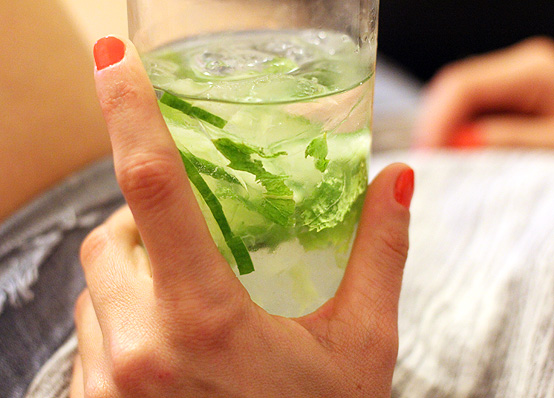 It's actually kind of funny the way we came upon concocting this little aperitif.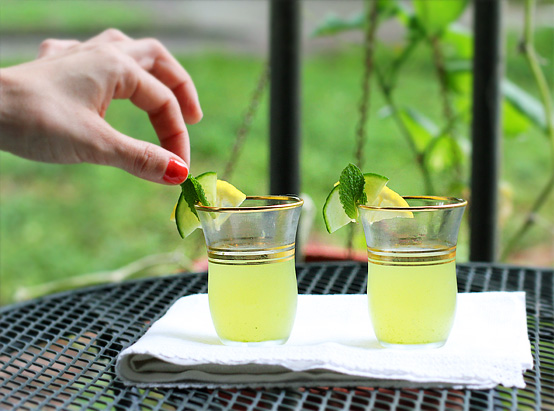 (Nice nails, Jen)
We had some leftover cucumber infused vodka in the fridge and decided to let it keep stewing so to see if the cucumber flavor would get stronger. It did! After 48 hours, the sharp, alcoholic edges of the vodka became smoothed out, and once strained, the vodka tasted fantastic!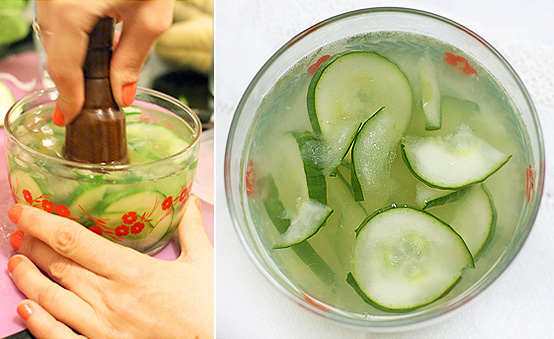 Then we took it a step further and busted out our muddle, again. Muddled up some mint, agave and lemon juice and added that to our homemade cucumber infused vodka. (Impressed yet?)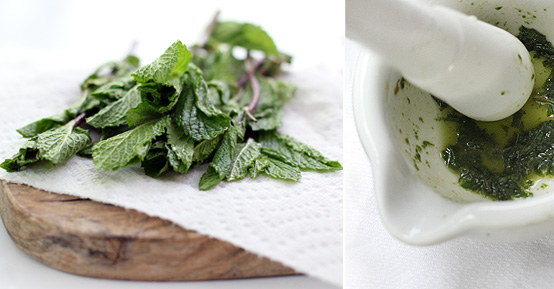 Then strained it all out and were so delighted with the translucent green color it yielded – hence the name, Agua Verde! The color mainly comes from muddling the mint leaves, not the cucumbers. The flavor is very smooth, subtle and natural. Not sweet and artificial like a gross and sticky shot you might get at the bar. It kind of reminds us of the best parts of a mojito (minty cool and easy to swallow) with a very apparent cucumber undertone. Remember though, it's essentially straight up vodka so you might not want to actually suck it down like a mojito.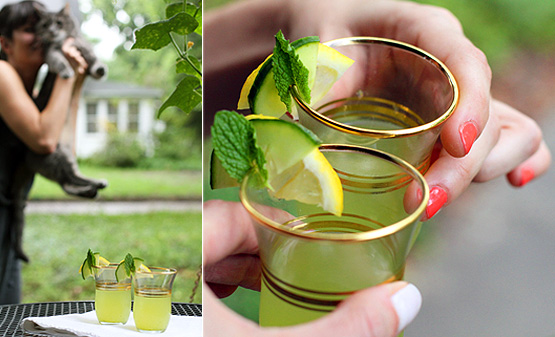 (Though color blind, Oscar the Pouch is shocked by how marvelous Agua Verde looks!)
This is precisely the kind of thing you want to sip on after a light meal on a back porch as the sun is setting. Or when the heavens rain down on your beach day. I'll definitely be making more Agua Verde to get me through the hot weather and tornado warnings down here.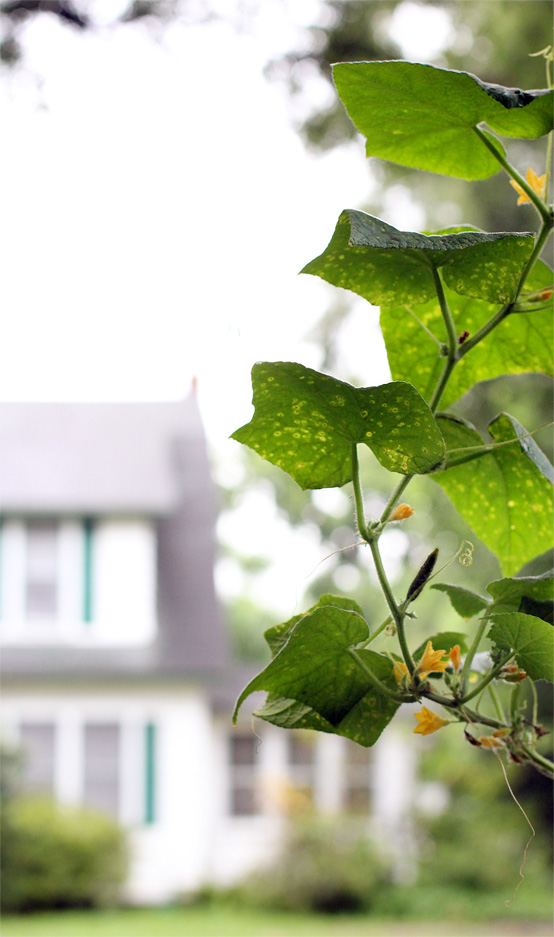 P.S. Can you spy the itty bitty baby cucumber on the vine?
Print Recipe
Back to Top
Recipe
Prep time: 24-48 hours for vodka to infuse with cucumber essence, but only 10 minutes after that to prepare. Recipe makes about four one ounce apéritifs. You can add a little extra agave nectar if you like things sweeter or drink it on the rocks if you like your ice.
You need:
About 6 ounces vodka
Juice from one lemon
About 3-4 inches worth of sliced, seedless cucumber (English cucumber)
Small handful of mint
About 3 teaspoons of agave nectar
Directions
Wash and slice cucumbers and place in an airtight vessel with vodka. Refridgerate for 24-48 hours (48 hours is ideal if you have time).
Remove from fridge after 24-48 hours and strain out vodka. Discard cucumbers cause they'll taste terrible like rubbing alcohol.
Muddle mint leaves with lemon juice and agave nectar. Add to muddled mint leaves and its bright green juice to the cucumber infused vodka and shake vigorously. Strain vodka through a colander again.
Place in freezer for a few minutes or shake with ice until ice cold and serve in small glasses.
HonestFare.com