I know half of you are immediately turned off because, for you, the crust is the best part of the pie. And sure, the crust is great, but it's not necessarily the best part. Take this pie for instance. It's all about the filling, and it's damn good!
Just look at this thing.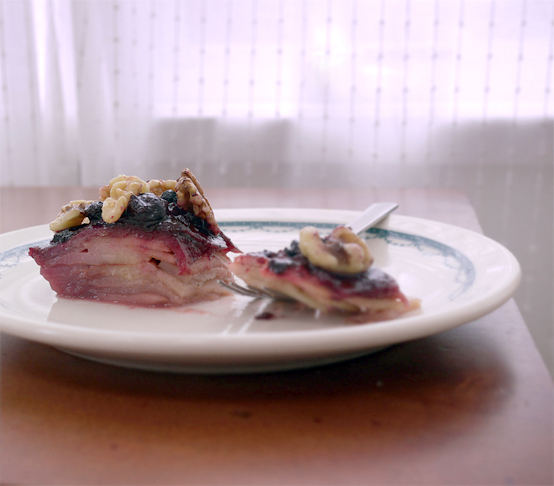 Can it even be called a pie though if it lacks that fundamental flaky element? Semantics. If it looks like a pie and it feels like a pie, it's a pie! No crust means less fuss and a whole lot healthier pie (in most cases), so lets just go with it.
For me, the only issue going crustless presents is a structural one. How can you get the whole thing to stay together without first laying that crusty foundation? I'll tell you: It's all in the fruit you use and how you slice it. Here, we went with apples – the most structurally sound of fruits. First, you'll want to peel the apples and then use a mandolin or sharp knife to slice the fruit into 1/8-inch rounds. Don't cut the fruit into wedges before doing this because you want your slices of fruit to be as large as possible. They should be like sheets. So just work away at one side of the apple until almost reaching the core and then flip it over and do the other side. Then you can slice the excess pieces off the core and reserve them for the binding sauce we're going to make.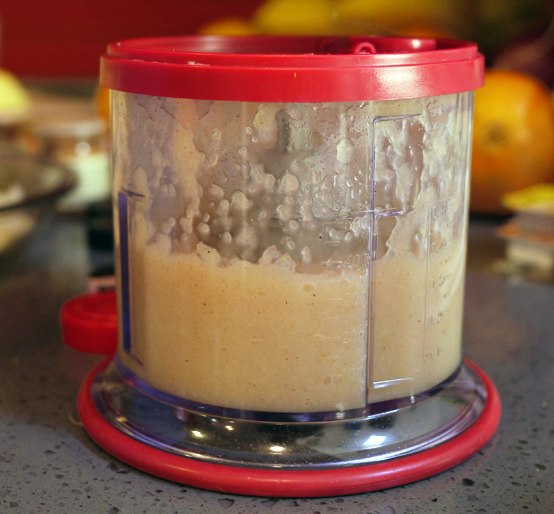 Binding sauce? I don't know, that's just what I'm calling it. The binding sauce is basically an apple sauce made by cooking down the excess apple pieces with some water, sugar and a thickening agent like cornstarch or arrowroot. Then you blend it up to make the silky sauce that's brushed between each layer of apples as you build your pie. It holds all the layers together, like cement, so it's not a step you can skip!
Assemblage of the pie is pretty simple. You start by lightly greasing the bottom of the pie pan, and then sprinkling with some cinnamon and sugar. Then you do a neat installation of apple rounds, followed by the binding sauce. And so on, until you get to the top of your pie dish. Like so…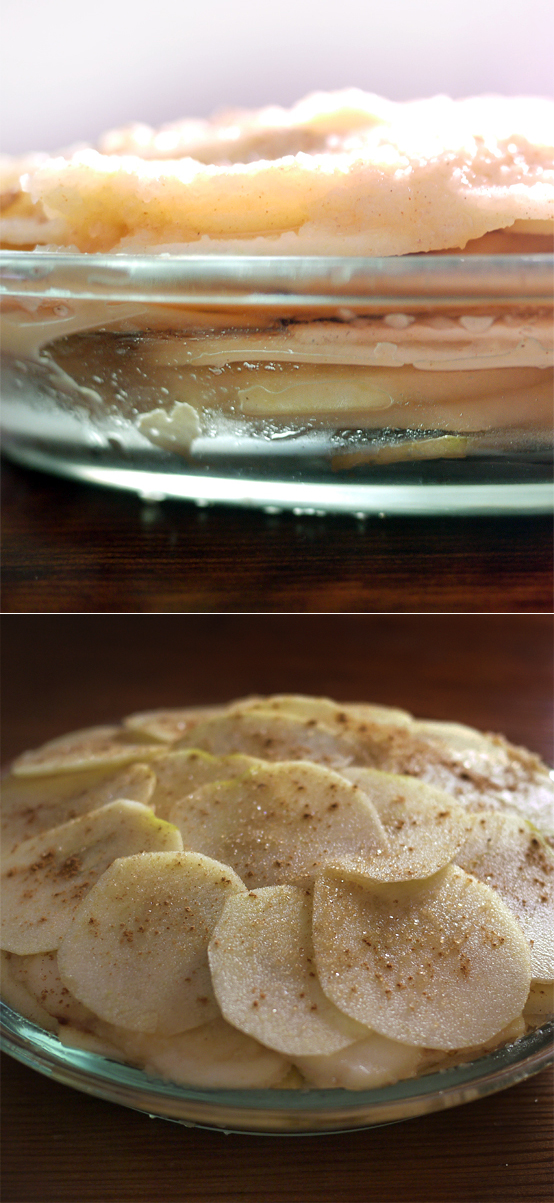 And stacking it all up this way will ensure that you get a nice and neat cross section. Like so…
The blueberry sauce is cooked in the same exact way. It's totally optional, but I recommend it for a little extra flair (the color bleeds through and is so pretty). Spread it on top of the pie just before baking.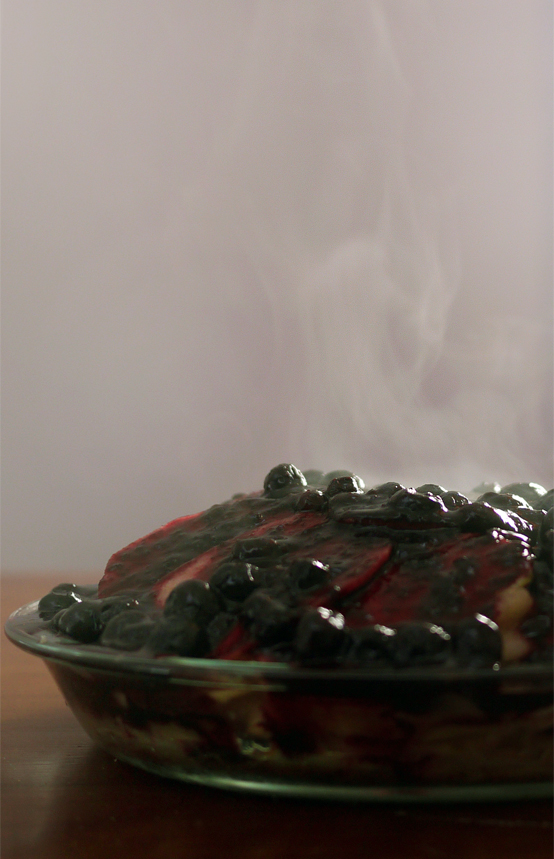 I didn't add the walnuts until the end so they wouldn't burn. Another option is to sprinkle on some granola if you for that crunch you might miss without the crust.
Print Recipe
Back to Top
Recipe
Preheat oven to 350° Prep time: 30 minutes. Serves 8. Sweeten with honey, agave or raw sugar (or a hybrid of all three) depending on preference. Blueberry sauce topping is optional. If you decide to top with walnuts, be sure to add towards the end of baking (5-10 minutes before removing from oven) so they don't burn. Cool before serving or it won't slice neatly. Store in fridge.
You need:
3 lbs golden delicious or granny smith apples
1/2 lb frozen or fresh blueberries (optional for topping)
1 cup walnuts (optional for topping)
Juice from half a lemon
2 tsp cinnamon
1 cinnamon stick
Pinch of allspice
1/2 tap nutmeg
Pinch of salt
Agave, honey or raw sugar (to taste)
2 Tbs butter
2-3 Tbs thickening agent like cornstarch, rice flour or arrowroot
Directions
Wash and peel apples. Slice whole apples into clean and even as possible 1/8 inch rounds. You should have a good amount of fruit left on the cores. Set cores aside. Gently toss apple rounds in spices, lemma juice and sweetener and set aside. Cut remaining apple from around the cores and keep separate from apple rounds.
Place apple scraps in a small saucepan with a splash of water, some sweetener and cook until soft. Mix thickening agent with some of warm mixture in a separate bowl, then add back in to the pot and continue cooking until bubbling. Remove from heat and allow to cool a bit before blending until silky fine. This is your apple binding sauce.
Now place blueberries in the same saucepan with a cinnamon stick and cook in the same way. Remove from heat when soft and do not blend. Set aside to add to top of pie before baking.
Rub some butter on bottom of pie pan and sprinkle with cinnamon and raw sugar. Arrange a layer of apple rounds and then brush with thin layer of apple binding sauce and continue as such until you reach the top of your pie pan. Spoon on blueberry sauce.
Place pie on baking sheet in oven (this is in case of any runoff) and bake at 350° for 30-40 minutes or until apples are cooked through. Add walnuts towards the end of baking so they don't burn. Allow to cool fully and serve at room temp or cold (I like it cold).
HonestFare.com