There's really no acceptable excuse for it taking me so long to make pickles. I've thought many times, "Gee, I should really try making my own pickles." And then I just buy a jar. I guess it's the waiting involved in pickling. I hate waiting for stuff to be ready. I can barely stand baking for this reason. It's like, if I can't taste it every step of the way, I lose interest.
Now, doesn't that reveal some deep insight into my psyche?
And, back to pickles…
So when I found out there was a so-called 'quick pickle' (which sounds like some sort of sex move) recipe for impatient types like me, I figured it was worth a try.
With quick pickling, you get can have homemade pickles, however you like them (sweet, garlicky, spicy or a combination of it all), in just 24 hours.
A spicy dill pickles with a little hint of sweetness. So crisp. So good!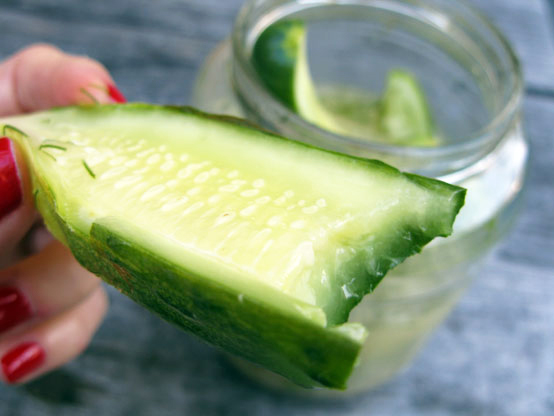 There are really only two things to consider when pickling at home.
1. The brine.
2. The cucumber.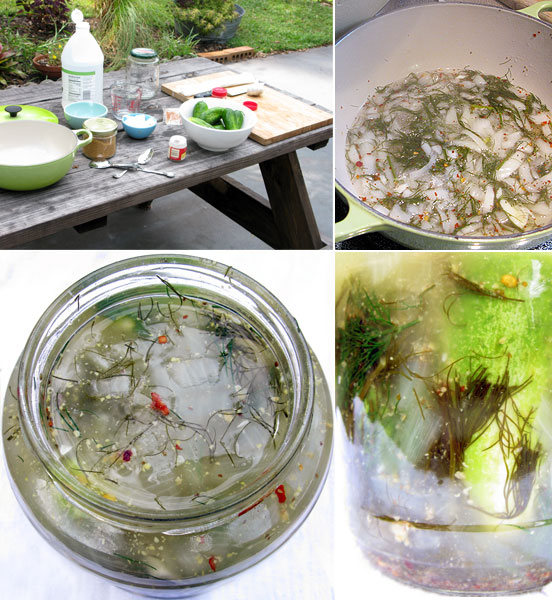 1.
The brine is your picking agent. It's the combination of vinegar, salt & sugar, herbs and spices that your cucumbers will hang out in until they become flavorful pickles! The salt is very important. It helps counter the vinegar, so if there isn't enough, the pickles become unbearably strong. This quick pickling thing requires that you simmer the brine on medium heat for a couple minutes before adding it to your jar filled with cucumbers.
I made two batches of pickles and found that a combination of vinegar, celery seed, mustard seed (or stone ground mustard), onions, a lot of dill, SALT (so important), some sugar and red pepper flakes to yield the best flavor.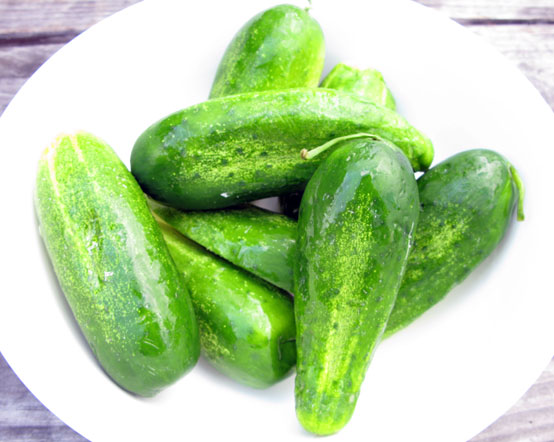 2.
The cucumber is crucial. So what kind of cucumbers should one use for pickling? I went with kirbies because that's what I could find and they are supposedly among the best for pickling. Gherkins are also a good option.
I debated between doing spears (quartering the cucumbers) or halves. So I did a jar of each and varied the brine to see what worked best. I prefer the halves.
So that's basically it. Keep it in the fridge for 24 hours before eating…unless you're anything like me and insist on taking a bite of one every two hours to make sure they are maturing properly.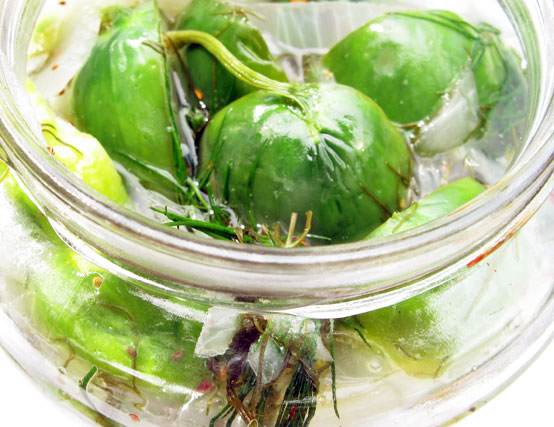 Yum, baby monster arms.
Print Recipe
Back to Top
Recipe
Prep time: 24 hours. Kirbies and Gherkins are best for pickling. You can quarter or half your pickles. The brine below is for a garlicky and herb flavor with just a slight hint of sweetness. If you prefer sweet pickles, add more sugar. If you hate sweet pickles, omit the sugar altogether!
You need:
6-8 pickling cucumbers
1 cup distilled white vinegar
1/4 cup white sugar (optional or use less if you don't want any sweetness)
1 ½ Tablespoon salt
½ -1 teaspoon red pepper flakes
1 teaspoon celery seed
1 Tablespoon mustard seed or stone ground mustard
1 ½ teaspoon horseradish
A LOT of dill (like 1/3 cup diced)
2 garlic cloves
¼ cup sliced white onion
2-3 Tablespoons water
Directions
Slice about ¼ of an onion into thin slivers. Peel and smash garlic with your knife (but don't chop or dice though). Put garlic and onion in a pot with vinegar, sugar, salt, celery seed, red pepper flakes, splash of water and half your dill. If you have mustard seed, you can add that to the pot too. But if you're using mustard powder or stone ground mustard as an alternate, don't add it yet.
Bring contents in pot to a nice simmer and then immediately turn off heat and let cool for about 10 minutes.
Meanwhile, wash and half your cucumbers. Line them up in a reused pickle jar.
Use a large soup ladle to add your brine to the cucumbers in the jar (try not to loose too much in the process). You can also use a funnel if you have one, but just make sure you get the onion and all the dill in there too.
Add the remaining fresh dill and mustard or horseradish if you like. Then put the lid on tight and give it a few nice shakes before storing it in the fridge over night.
Give the jar a stern shake every few hours if you remember.
HonestFare.com